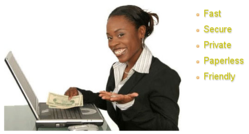 With so many stores offering low prices on these TVs this time of year, it's time to finally make that purchase.
(PRWEB) November 30, 2011
CashWire.com, an online payday loan provider, is helping to make the holidays a little more cheerful this year by allowing people to purchase the best holiday gifts for the best prices possible.
Payday loans offered by CashWire.com are being used for those big holiday sales coming up, so borrowers can get the best prices on a variety of merchandise. Now they'll be able to give their parents a new Blu-ray player, and keep their kids' dreams alive when Santa comes to the house on Christmas Eve.
Because the holiday season is full of opportunities to give and receive special gifts, it's important to have quick access to cash when it's needed. Between Black Friday sales, 4-day sales, weekend sales and last-minute sales, this year's top merchandise will be at all-time low prices, which are perfect to take advantage of this winter.
Online payday loans are an easy and efficient way to take advantage of holiday gift sales before the next payday, and bring home any of these desired items:

Big screen televisions - With so many stores offering low prices on these TVs this time of year, it's time to finally make that purchase. These big screen television sets are now an inexpensive gift to give parents, grandparents or even spouses.
Gaming consoles - Games are still as big as ever, and the newest games need to be played on the best consoles. Many stores are offering packages this year. By purchasing a PlayStation 3 or Xbox 360, holiday shoppers may be able to also take home new games, controllers or online gaming subscriptions.
Hottest new kid toys - Each holiday season, the children's section is full of the latest and greatest toys available. And each season, parents scramble to get their children the best toys. Now, borrowers don't need to worry about their child being disappointed on Christmas morning, as they can use their quick cash to score these hot toys.
CashWire.com is different from other traditional payday loan providers. As a matching service, they place borrowers with the most appropriate payday loan lender to fit their needs. Their easy online application process takes only two minutes and requires no paperwork, which means CashWire.com can match a borrower with a lender quickly. Then, the lender will wire the money to the borrower's account in as little as one hour. The lenders working with CashWire.com can offer up to $1,500, which allows everyone access to quick cash when they need it most. And with a quick repayment timeline, usually on the next payday, borrowers can avoid costly interest payments, which keep more cash in their hand longer.
Along with using CashWire.com's fast payday loans for holiday gifts for family members, borrowers can use this money to help pay for holiday travel expenses or to buy the prize turkey for their holiday dinner. Having quick access to cash when it is needed is an important comfort this time of year.
By using CashWire.com, borrowers are able to give quality gifts to their friends, family, and loved ones without guilt and without worry.
About CashWire.com
CashWire.com is a lender matching service providing customers with access to fast, secure online payday loans up to $1,500. With a convenient online application and accommodating payment options, borrowers get the cash they need when they need it.
# # #