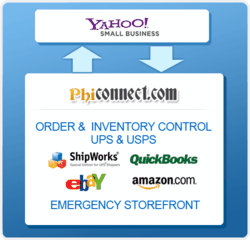 With its new features including batch label printing and ShipWorks integration, medium to high volume retailers can save more time and money
Los Angeles, CA (PRWEB) November 30, 2011
PhiConnect.com, a leading provider of e-commerce platforms and multi-channel management, announced new enhancements of shipping features allowing online retailers to print UPS and USPS labels in batch without UPS WorldShip and Endicia Dazzle. PhiConnect users also have the option to use ShipWorks, enabling users to use other shipping carriers. PhiConnect is an all-in-one web based solution including multi-channel order processing, inventory control, shipping management, QuickBooks integration and own storefront. This latest version includes integration for eBay, Amazon, Yahoo Store, Volusion, Magento, Buy.com Marketplace, PayPal, Google Checkout and own storefront module.
E-retailers can print both invoices and shipping labels on the same letter size page. This page can serve as a pick list and prevent miss shipment. This method is recommended for online retailers selling high ticket items. They can easily include the invoice inside the box once they use the peel off labels. For online retailers selling high volume with low priced items, they can print shipping labels in batch directly to their Zebra printer. Once invoices are generated, online retailers can choose multiple invoices to print out batch shipping labels. This dynamic new feature will save time and labor for high volume online sellers especially during this holiday season. A maximum of three item numbers will be printed on the Zebra label that can serve as a pick list. PhiConnect shipping management is included to allow direct label printing of UPS and US Postal Service without using UPS WorldShip and Stamps.com.
If online sellers prefer to use their 3rd party software for shipping management, they can export all invoices to ShipWorks for more shipping carriers. E-retailers have more shipping options like Endicia, EquaShip, Express1, FedEx, UPS WorldShip, and Stamps.com through ShipWorks.
PhiConnect solution is targeted to medium to large-sized e-commerce sellers, retailers, distributors, and manufacturers who need multi-channel order processing, inventory control, shipping management and own storefront in an all-in-one platform. Also, the solution opens the opportunity of saving time and money by getting shipping discounts, image hosting, super size pictures and eBay scheduling for free.
"PhiConnect makes all e-commerce jobs easier and better, because it is an all-in-one multi-channel management web service. With its new features including batch label printing and ShipWorks integration, medium to high volume retailers can save more time and money," said Daniel Kim, Project Manager of PhiConnect.com.
PhiConnect.com also offers a free consultation and a free trial. An e-commerce specialist will have an online demo sessionwith many suggestions and guidance.
About PhiConnect:
PhiConnect was developed by a Yahoo! Store user, eBay Titanium PowerSeller and Amazon seller, with 12 years experience. PhiConnect has helped many multi-million online sellers of multi-channels to reduce the time and labor of their inventory control, order processing and listing management. PhiConnect also offers an own storefront and shipping modules so sellers do not need switch between different software. PhiConnect all-in-one platform can save time and money because online retailers will not need to subscribe to storefront, listing management, inventory control, order processing, and shipping module services separately. PhiConnect's platform gives online retailers the ability to distribute their product to multiple marketplaces including eBay, Amazon, Buy.com, Google Product Search, Shopping.com, PriceGrabber, and Shopzilla. Additionally, PhiConnect's automatic SEO feature can generate meta keywords, meta description, and URL rewrite automatically for search optimization for Google and Yahoo. For further information, please visit http://www.PhiConnect.com.
###