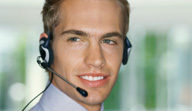 A successful help desk experience ultimately hinges on the person on the other end of the phone.
Schaumburg, Illinois (PRWEB) November 30, 2011
ABS Associates, Inc. has recently released its new white paper entitled "RFP Trend Update: The People Behind the Metrics." The white paper focuses on the crucial role people play in any service desk and how organizations can read beyond the metrics, whether it's for developing a Request for Proposal (RFP) to identify a new help desk partner or to assess a current team. The over-arching help desk goal is to get people back to work quickly and to make sure solutions are delivered by people with personality, energy, and a professional presence. Fast call-pickup, swift resolution, and caller satisfaction are all areas that a help desk provider can measure to demonstrate they've achieved their mission. For the inside story and questions you should ask when selecting a help desk outsourcing partner, ABS Associates puts its nearly 30 years of expertise as an IT service provider into this concise, thought provoking new release.
###