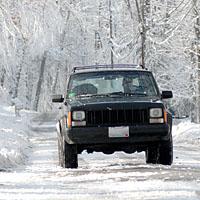 "Many areas of the country have already seen freezing temperatures and several inches of snow. But there are several months of winter weather ahead, so it's important for everyone to be prepared."
Lincoln, RI (PRWEB) November 29, 2011
* This is the last in a weekly series of tips Amica Insurance is offering during November to help prepare and protect your home and family this winter.
Snow, sleet and ice can make driving dangerous. So Amica Insurance reminds motorists to make sure you and your car are ready for driving in wintery conditions.
"Motorists need to be extremely careful driving in the winter, especially because weather conditions can change so quickly," said Sean Welch, a senior assistant vice president with Amica Insurance. "Many areas of the country have already seen freezing temperatures and several inches of snow. But there are several months of winter weather ahead, so it's important for everyone to be prepared."
Start by making sure you have plenty of gas and a fully charged cell phone every time you head out, Welch said. Keep a first aid kit, ice scraper, snow brush and small shovel in your car.
Some people also like to keep a bag of sand or kitty litter in the trunk to help provide traction if your car becomes stuck, he said.
"It's also wise to keep a blanket, gloves, boots, warm clothes, food, water and emergency cash in your car in case you find yourself stuck for an extended period," Welch said.
It's also important to make sure your car is ready for driving in wintery conditions, Welch said. Amica and the National Highway Traffic Safety Administration offer these reminders:

Inspect windshield wiper blades and replace if necessary.
Check and fill windshield wiper fluid and antifreeze.
Check tires' air pressure and treads and replace if they're worn.
Test the heater and defroster. Make sure they're working properly.
Make sure the brakes are working properly.
"Pay special attention to weather forecasts this time of year, and remember that freezing temperatures can lead to slick spots on any road," Welch said. "Don't forget to slow down when driving on roads with snow, sleet or freezing rain. And try to avoid driving if a winter storm is forecast."
If you do get stuck in your car during a storm, stay with your car, Welch said. It provides warmth and shelter and makes it easier for help to find you.
NHTSA also offers these additional tips:

Tie a brightly colored cloth around your antenna and keep the interior dome light turned on. This will help rescue workers find you.
Avoid running your car for long periods of time with the windows up. Run your car only long enough to keep warm.
Clear the exhaust pipe of any snow to prevent carbon monoxide poisoning.
In addition, Welch said, call for help immediately and try to stay as warm as possible by wrapping yourself with blankets, extra clothes and whatever else you can find in your car.
"Winter driving can be tricky, so allow plenty of extra time to get to your destination this winter," Welch said. "And prepare ahead to help make sure you arrive safely."
About Amica Mutual Insurance
Amica Mutual Insurance Company, the nation's oldest mutual insurer of automobiles, was founded in 1907. The company, with corporate headquarters in Lincoln, RI, is a national writer of automobile, homeowners, marine and personal umbrella liability insurance. Life coverage is available through Amica Life Insurance Company, a wholly owned subsidiary. Amica employs more than 3,100 people in 40 offices across the country.
###