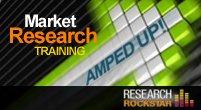 "The virtual classroom experience mimics in-person learning very well...Students see slides, hear the instructor, view a white board, and ask questions. Plus the whole thing is recorded and available for replay."
Marlborough, MA (PRWEB) November 30, 2011
In response to demand from its current clients, Research Rockstar has announced that five classes will now be offered in real-time, each taught by Kathryn Korostoff.
"I have heard from many clients that they would like to see some of our classes offered in real-time so that students can have a more interactive experience," explains Korostoff, adding. "So we are now offering five of our most popular online classes in a virtual classroom setting."
The five classes that are now available for registration include:

10 Point Checklist for Questionnaire Design. Planning to write a questionnaire? Learn how to manage the process and avoid common mistakes.
Ask It Right: Choosing Scales & Answer Options for Online Surveys. Likert, semantic differential, constant sum and more. Learn how to get the best data by offering the proper answer options.
Improving Customer Satisfaction: Monitoring Methods that Deliver Insights. Learn current options to plan and launch a Customer Satisfaction research program.
Social Media Meets Market Research. How to use Social Media as a market research resource. Includes real examples and demonstrations.
Market Segmentation: Practical Steps to Research Success. Thinking about market segmentation? Learn how to plan your organization's first market segmentation research project.
Each class is offered as a single, 90 minute long session, which includes 1:1 instructor support, printable handouts and playback. For scheduling convenience, each class is offered on three separate dates. Classes begin in December and are scheduled through February 2012.
"The virtual classroom experience mimics in-person learning very well," explains Korostoff. "Students see slides, hear the instructor, view a white board, and ask questions. Plus the whole thing is recorded and available for replay."
By taking cases virtually, students avoid the cost and aggravation of travel, while still enjoying instructor access. The classes are each designed to be very real-world; the 90 minute sessions are fast-paced and focus on practical information. After completing a class and a brief assessment quiz, students receive a certification of completion. Each class is $245.
To register, visit http://www.ResearchRockstar.com/Winter or call 508.691.6004 ext 701.
About the Instructor
Kathryn Korostoff has a special interest in how organizations acquire, manage, and apply market research. Over the past 20 years, she has personally directed more than 600 primary market research projects and published over 100 bylined articles in various magazines, including Quirk's and the MRA's Alert! magazine. Kathryn is also the author of the book, "How to Hire & Manage Market Research Agencies," available on Amazon. She has been a featured speaker at American Marketing Association (AMA) and Marketing Research Association (MRA) events, and is frequently hired by clients to facilitate on-site market research workshops.
For additional information or details, please contact Cathy Leonard at CLeonard(at)ResearchRockstar(dot)com, or 508.691.6004 ext 701.
Please check our website for other market research learning opportunities, http://www.ResearchRockstar.com.
# # #