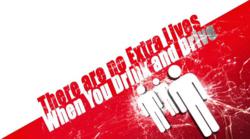 When my Dad was killed by a drunk driver it radically changed the lives of every person in my family. If only young people had more awareness of the life changing outcomes that can result from drinking and driving I think there would be less of it.
West Chester, PA (PRWEB) November 29, 2011
Drinking and driving can have tragic results and the holiday season seems to be a time when such outcomes are magnified. Cindy Speaker, president of Speaker Media and Marketing knows that all too well. At the age of 20 she lost her father when he was the victim of an irresponsible drunk driver. Now she works in an industry where her clients are advocates working to impact legislation and educate the public about the serious ramifications associated with drinking and driving.
Her company rolled out a new public service announcement today that she hopes will hit home with young people. In the spot a couple of young men are playing a video game. One of them is drinking. As he attempts to compete in the game his ability is obviously impaired by the alcohol in his system. He loses the game when his last virtual life is gone. The final message appears on the screen and says "There are no extra lives when you drink and drive."
The spot was conceived of by Speaker's young team and the visual effects were fully produced by high school senior, Dan Frantz. Dan is an up and coming filmmaker who has already won several film festival awards for his independent films. He has recently been accepted for the Young Arts Program funded by the National Foundation for Advancement in the Arts. Dan is a budding visual effects artist who last year won a Telly Award for his work on an earlier PSA called "Distracted Driving is Like Driving Blind."
The team at Speaker Media provides marketing and media services to personal injury attorneys throughout the US and the PSA "There and No Extra Lives When You Drink and Drive," is being sponsored by attorneys in many of those markets. Michael A. DeMayo of The Law Offices of Michael A. DeMayo headquartered in Charlotte, NC was the first to sponsor the piece which was launched today on his YouTube channel.
###