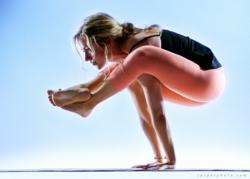 "We are pleased to bring these two extraordinary yoga retreats to our guests. We know these active retreats can synchronize mind and body while cultivating physical and spiritual health," says Thomas Steinhauer, regional vice president and general manager
Maui, HI (PRWEB) November 29, 2011
Vacations are the perfect opportunity to relax and unwind. Guests at Four Seasons Resort Maui, the island's first and only AAA Five Diamond and Forbes Five-Star resort, would agree. The resort has perfected this "state-of-being" into a finely crafted art. Rest on its laurels? Not a chance. The resort has literally taken the next big leap by offering two one-of-a-kind yoga retreats as part of its year-long series of Unforgettable Events.
Kathryn Budig, a celebrated Los Angeles-based yoga instructor, who teaches the Vinyasa style of yoga, leads off February 27 to March 3, 2012. At her retreat, guests will learn techniques to better connect the breath to movement, allowing poses to flow together like a choreographed dance. Widely recognized for her playful mixture of challenging classes, infectious love for yoga, and joyful personality, she teaches her students poses designed to identify, open and strengthen both body and mind. She also will demonstrate ways to make the body more graceful, accepting and flexible.
Budig has been featured on the covers of Yoga Journal, Yoga International, Om Yoga and Common Ground. She also is a published writer whose articles have appeared in the Huffington Post, Yoga Journal, Yahoo Shine's Living Section and MindBodyGreen. An avid food lover, Budig is passionate about sharing healthy, organic and eco-friendly recipes.
"We are pleased to bring these two extraordinary yoga retreats to our guests. We know these active retreats can synchronize mind and body, create an inner state of harmony, and cultivate physical, mental and spiritual health. What better way to actively engage in the overall Four Seasons Resort Maui vacation experience," says Thomas Steinhauer, regional vice president and general manager, Four Seasons Resort Maui.
The retreat will include five nights in a luxurious garden-view room; full breakfast daily in the resort's DUO restaurant; four sunrise and three sunset yoga sessions with Budig including two offsite excursions to inspirational settings; a Welcome Reception and a traditional outrigger canoe closing ceremony; and "Talk Story" sessions with Budig in the Yoga Suite. Pricing for this package begins at $3,800 for a single participant. Limited availability. To reserve this package, contact pat.makozak(at)fourseasons(dot)com or call 1 (808) 874-2939.
Coming June 13-17: The internationally-acclaimed husband and wife team of David Swenson and Shelly Washington return to Four Seasons Resort Maui with their popular and powerful Ashtanga Yoga Retreat.
About Unforgettable Events
Four Seasons Resort Maui's Unforgettable Events is a series of one-of-a-kind experiences scheduled throughout 2012. The calendar of events continues to grow and can be accessed at http://maui.fourseasons.com/edition/unforgettable-events. The resort has invited celebrated athletes and experts to interact with guests through diverse programs such as viticultural and culinary events, yoga retreats, film festival screenings, fantasy tennis, cycling, and surfing camps that promise to provide unforgettable memories.
About Four Seasons Resort Maui
Maui's first and only AAA Five Diamond and Forbes Five-Star resort is nestled on 15 acres of the breathtaking Wailea coast. The 380-room oceanfront property is world-renowned for its comfortable opulence, impeccable service and luxurious amenities. The resort is also home to one of the nation's top-rated spas and three of Hawaii's most acclaimed restaurants – Ferraro's Bar e Ristorante, Spago Maui and DUO, a premium steak and seafood restaurant. Go to: http://www.fourseasons.com/maui
###