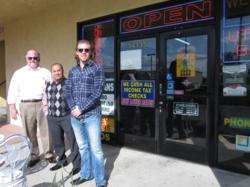 We're excited to be able to offer a ticket fighting service in the Papa Cash stores. Just about everyone gets traffic tickets, and it'll be convenient for Papa Cash's regular customers to now be able to get professional help with their ticket in store
San Diego, CA (PRWEB) November 30, 2011
Drivers with traffic tickets in Southern California will now be able to receive professional legal assistance at two of TicketKick's Authorized Service Centers℠ located inside Papa Cash℠ Check Cashing stores starting in December 2011. TicketKick is the fasting growing ticket dismissal service in California, helping drivers contest tickets through a trial by written declaration (trial by mail). They help drivers with basic traffic infractions such as speeding tickets, red light camera tickets, and other common violations.
TicketKick and Papa Cash plan to host a grand opening celebration on Thursday December 8, 2011 at their West Covina location.
Until recently, TicketKick's service was only available to customers by phone, online, or by a walk-in appointment in TicketKick's corporate office in San Diego, but will now be available on a walk-in basis in two Papa Cash stores located in West Covina and Baldwin Park starting in December. TicketKick has created an affiliate model with Papa Cash, and will provide trained TicketKick Authorized Agents℠ in the Papa Cash stores. TicketKick and Papa Cash have plans to roll out the service in about a dozen other locations in the upcoming months. Customers who sign up for the TicketKick service at the Papa Cash locations will have full access to TicketKick's corporate customer service team.
Papa Cash was established in 2003 to provide retail financial services to a wide array of customers. They offer services and products including check cashing, personal loans, money orders, stamps, phone cards, buss passes, bill pay, and gold buying. The owners of Papa Cash reached out to TicketKick after seeing TicketKick featured in a Yahoo! article in September, and presented an interest of offering the TicketKick service to the customers in their stores.
"We're excited to be able to offer a ticket fighting service in the Papa Cash stores. Just about everyone gets traffic tickets, and it'll be convenient for Papa Cash's regular customers to now be able to get professional help with their ticket in store," said Aaron Padilla, Papa Cash's Consumer Credit Director.
TicketKick's mission to help drivers easily fight traffic violations while providing friendly and helpful customer service aligns seamlessly with Papa Cash's mission of offering first-class financial products and services, at a fair price, in a clean and professional setting, with courteous and respectful service.
Greg Muender, TicketKick's President and Founder said, "Papa Cash really focuses on treating their customers well, just as we do. When you walk into any of their stores, their reps are always so friendly and helpful, and we're confident that the TicketKick service is going to fit right into the service model they've created."
About TicketKick®
TicketKick is a registered and bonded legal document assistant in California, providing self help services in assisting drivers to beat traffic tickets, using a similar service model to companies such as LegalZoom and E*Trade. TicketKick works with traffic attorneys and law school graduates who work together to complete legal documents in a ministerial manner at the specific direction of the customer with the goal of helping the customer obtain a ticket dismissal. About a 70% of TicketKick's customers receive a dismissal of their ticket. TicketKick offers an industry exclusive 100% money back guarantee for customers who may be found guilty after using their services. TicketKick representatives can be reached at (800) 580-1902, at http://www.ticketkick.com, or at questions(at)ticketkick(dot)com.
###