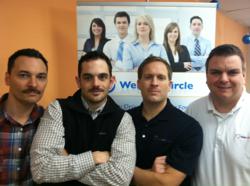 Charlotte, NC (PRWEB) November 30, 2011
Website Design and Internet Marketing Company, Web Full Circle is a sponsor of Blackbridge Movember, Charlotte's local initiative to make others conscious of men's health. During this cause, men all over the world grow mustaches through the month of November. These men, coined "MoBros", receive sponsorship in their mustache growing to raise funds and awareness for men's health, particularly prostate cancer.
Web Full Circle is a sponsor of this cause both through internet marketing and team participation. Web Full Circle launched blackbridgemovember.com, a site devoted to the Charlotte branch of "Movember". The website details additional information about participation in the mustache growing event and prostate cancer statistics. Tickets can also be purchased on the website for the end of month fundraising event celebrating the month of mustaches, and honoring the teams who participated.
Additionally, the Web Full Circle team participated in the cause as "MoBros". Men of Web Full Circle grew mustaches throughout the month, and Web Full Circle took to social media to promote the cause as well as their mustache progress.
To honor Blackbridge Movember, Web Full Circle will be attending the Movember Party on December 1st at Andrew Blair's on Montford.
For more information about Web Full Circle, please visit webfullcircle.com or call (980) 322-0518.
About Web Full Circle
Web Full Circle is Website Design and SEO Company that specializes in developing websites that generate leads for companies. Our team of Internet consultants and SEO experts develop solutions that are customized around companies' online marketing goals. Web Full Circle is located at 207 Regency Executive Park Dr., Suite #150, Charlotte, NC 28217.
###