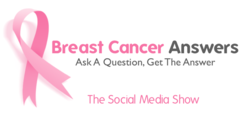 I'm honored to be a part of this ingenious campaign that gives breast cancer patients what they have always deserved, access to the top doctors and cutting edge information.
Phoenix, AZ (PRWEB) November 30, 2011
Eliminating the gap between breast cancer patients and top breast cancer experts, digital marketing leader WireBuzz, renowned breast surgeon Jay K. Harness, MD, FACS and molecular diagnostics maker, Genomic Health Inc, have joined forces to launch the groundbreaking social media show BreastCancerAnswers.com.
"I'm honored to be a part of this ingenious campaign that gives breast cancer patients what they have always deserved, access to the top doctors and cutting edge information," said Dr. Harness. As past president of both the American Society of Breast Surgeons & Breast Surgery International, Dr. Harness and his colleagues provide easy access to invaluable information.
This highly interactive social media show enables patients across the dominant eight social networks (ex. Facebook, YouTube & Twitter...) to submit their questions and receive a video response back. Patient questions can also be submitted at BreastCancerAnswers.com/ask.
"After watching my step-mom battle breast cancer, I knew I needed to leverage our digital marketing expertise to help women," said Todd Hartley, president of WireBuzz.com. "So Dr. Harness and I built this amazing show that's always accessible to patients, just like my step-mom."
Each time a patient submits a new question, they receive an email with a video answering their question. These short Q & A responses, or episodes, are then published every week day across the Internet and into the show's growing Q & A video library. On BreastCancerAnswers.com patients also have access to Dr. Harness', Questions To Ask You Doctor. A user friendly form that can be downloaded, printed, and used during a patient's next doctor's appointment. (Download the questions form at breastcanceranswers.com/what-breast-cancer-questions-to-ask)
ABOUT
Breast Cancer Answers is a social media show where viewers ask questions and the experts respond.
ABOUT DR. HARNESS
Dr. Jay K. Harness is the past president of The American Society of Breast Surgeons and Breast Surgery International. He is a full-time breast surgeon at St. Joseph Hospital in Orange, California. Practicing surgery for 36 years, Dr. Harness specializes in breast and endocrine surgery. Dr. Harness is currently the Co-Principal Investigator of the NCI (National Cancer Institute) Community Cancer Centers Program (NCCCP) at the St. Joseph Hospital Center for Cancer Prevention and Treatment in Orange, California. He is one of the leading clinical research physicians at St. Joseph Hospital. (For more information visit DrJayHarness.com)
ABOUT WIREBUZZ
WireBuzz is a digital marketing agency specializing in fast turn around custom video, SEO and social media engagement for highly targeted customer or patient lead generation. For businesses interested in growing their marketable database and converting highly qualified leads into customers or patients, WireBuzz is pioneering, "Social Media Shows", which are syndicated programs designed to expand engagement across the social networks. Click here to learn more about Social Media Shows (http://www.wirebuzz.com/social-media-video-shows).
ABOUT THE SPONSOR
Breast Cancer Answers is sponsored by Genomic Health, a molecular diagnostics company focused on analyzing the underlying biology of cancer allowing physicians and patients to make individualized treatment decisions. Their lead product, the Oncotype DX Breast Cancer Assay, has been shown to predict the likelihood of chemotherapy benefit as well as recurrence in early-stage breast cancer to help optimize treatment options.
# # #