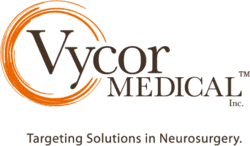 Vycor's VBAS neurosurgical device has tremendous potential and is gaining traction with neurosurgeons and hospitals, and the company's NovaVision operations provide an otherwise unmet therapy and are building up patient volume
Boca Raton, FL (PRWEB) November 29, 2011
Vycor Medical, Inc. (OTCBB-VYCO) ("Vycor") announces that Oscar Bronsther, M.D., F.A.C.S was appointed to Vycor's Board of Directors with immediate effect. Dr. Bronsther is currently Clinical Professor at George Washington University, Washington, DC.
Dr. Bronsther has served as Clinical Professor at George Washington University since 2002. He had previously served as an Associate Professor at the University of Rochester, Rochester, NY (1994-2001), University of Pittsburgh, Pittsburgh, PA (1989-1994) and University of California San Diego (1984). He also serves as the Chairman, Section of General Surgery at Inova Fairfax Hospital. Since 2002, he has served as a Board Member, National Board Member and Director of Transplant Services of Kaiser Permanente Medical Group. He has authored over 60 publications and has lectured principally in the field of organ transplantation and has lectured extensively in the field.
Dr. Bronsther is a graduate of the University of Rochester (B.A. 1973) and Downstate Medical Center, Brooklyn, N.Y. (M.D. 1978). He did post-graduate work at Downstate Medical Center (Research Assistant 1975; Kidney Transplant Fellowship 1983-1984), Mount Sinai Medical Center, New York, N.Y (Residency 1978-1983) and Children's Hospital Medical Center, Boston, MA (Research Fellowship 1980-1981). He resides in Potomac, MD.
Adrian Liddell, Chairman of Vycor, commented: "We are delighted that Dr. Bronsther has agreed to join our board of directors. He brings a strong medical viewpoint to our board and with his background across numerous disciplines will be able to add considerably to the strategic development of the Company."
Dr. Oscar Bronsther commented: "I am very pleased to be joining the board of Vycor at this exciting time in its development. Vycor's VBAS neurosurgical device has tremendous potential and is gaining traction with neurosurgeons and hospitals, and the company's NovaVision operations provide an otherwise unmet therapy and are building up patient volume."
With corporate headquarters in Boca Raton, FL, Vycor Medical, Inc. (VYCO.BB) is a medical device company committed to making neurological brain, spinal and other surgical procedures safer and more effective. The company's flagship, Patent Pending ViewSite™ Surgical Access Systems represent an exciting new minimally invasive access and retraction system that holds the potential for speedier, safer and more economical brain, spinal and other surgeries and a quicker patient discharge. Vycor's innovative medical instruments are designed to optimize neurosurgical site access, reduce patient risk, accelerate recovery, and add tangible value to the professional medical community. Vycor is ISO 13485:2003 compliant, has FDA 510(K) clearance for brain and spine surgeries, and CE Marking and HPB licensing in Canada.
Vycor Medical's subsidiary NovaVision, Inc. researches, develops and provides science-driven light-based neurostimulation therapy and other medical technologies that help restore sight to patients with neurological vision impairments. The company's proprietary, Visual Restoration Therapy (VRT) platform is clinically supported to improve lost vision resulting from stroke, traumatic brain injury ("TBI"), or other acquired brain injury, and has been cleared to be marketed in the US by the FDA. VRT can be prescribed by any ophthalmologist, optometrist, neurologist or physiatrist. NovaVision also provides a device that aids in the early identification of visual field deficits: the Head Mounted Perimeter (HMPTM) - a portable and ADA-compliant instrument to aid in the detection and measurement of visual field deficits even in bed-ridden patients.
Safe Harbor Statement
Information in this document constitute forward-looking statements or statements which may be deemed or construed to be forward-looking statements within the meaning of the Private Securities Litigation Reform Act of 1995. The words "forecast", "anticipate", "estimate", "project", "intend", "expect", "should", "believe", and similar expressions are intended to identify forward-looking statements. These forward-looking statements involve, and are subject to known and unknown risks, uncertainties and other factors which could cause Vycor Medical's actual results, performance (financial or operating) or achievements to differ from the future results, performance (financial or operating) or achievements expressed or implied by such forward-looking statements. The risks, uncertainties and other factors are more fully discussed in Vycor Medical's filings with the U.S. Securities and Exchange Commission. All forward-looking statements attributable to Vycor Medical herein are expressly qualified in their entirety by the above-mentioned cautionary statement. Vycor Medical disclaims any obligation to update forward-looking statements contained in this estimate, except as may be required by law.
###