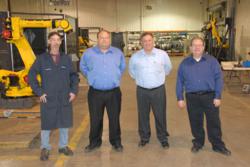 Marion, Ohio (PRWEB) November 30, 2011
RobotWorx, an industrial robot integrator located in central Ohio, has been looking to expand its sales and production staff in recent months and recently hired several qualified applicants.
Due to increases in leads and sales, the RobotWorx sales department needed to add new members to its team. An increase in sales also put a heavier load on the production team causing them to hire an additional robot technician.
The sales team welcomes Greg Lyons and Dave Thompson into the ranks. Lyons and Thompson each bring a unique sales background to RobotWorx. With an ever present need for various robot arms, Thompson heads the acquisitions department and scours industrial auctions and sales to find the robotic arms that the sales and production teams need.
In the shop, new robot technician Chad Barnett works with other robot techs and project managers to get acquainted with RobotWorx' methods and production schedules. Barnett will assist the rest of the production team with wiring, workcell construction, robotic programming, robot reconditioning, and other tasks.
Overseeing general operations, RobotWorx welcomes John Messaros into the role of general manager. As general manager, one of Messaros' major goals is to implement strategies to continue to improve sales and keep costs low. Improved planning of production schedules will also play a large role in continuing to increase sales figures and RobotWorx' credibility.
The industrial robot industry is expected to see steady growth in upcoming years, and RobotWorx expects their growth to match or exceed industry growth. The sales, production, and other departments expect to open more positions as RobotWorx' growth calls for it.
About RobotWorx: Located in Marion, Ohio, RobotWorx prides itself on its superior ability to design and integrate industrial robotic systems and workcells. As a Motoman Solutions Provider, FANUC Authorized Integrator, and KUKA Official Systems Partner, RobotWorx integrates new and refurbished industrial robots for companies in many industries, including the automotive, packaging, and aerospace industries. Visit the RobotWorx homepage at http://www.robots.com for more information.
###