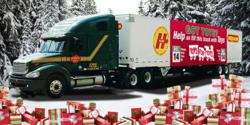 "Our goal is to fill our truck full of toys and deliver them to the U.S. Marine Corps which will distribute the gifts to families and children that would otherwise not receive holiday presents,"
(PRWEB) November 30, 2011
In partnership with Toys for Tots, which provides holiday gifts to needy children so they can better enjoy the holidays, Hermann Services has committed to filling a 53' semi-truck to receive donated gifts from people and companies in the Northeast region.
Hermann Services owns an impressive array of supply chain management assets including East and Gulf Coast warehouses, large fleets of new tractor trailers, and major fleet maintenance and repair facilities.
"Our goal is to fill our truck full of toys and deliver them to the U.S. Marine Corps which will distribute the gifts to families and children that would otherwise not receive holiday presents," said Jeffrey Hermann, Vice President Hermann Services.
Located in the heart of New Jersey's bustling business area, Hermann Services is a convenient location to receive toy donations. The gifts for children of all ages must be brand new and unwrapped.
Please send or drop off your toys by December 14, 2011 at:
Hermann Services Headquarters
83 Stults Road
Dayton NJ 08810
Hermann Services encourages other businesses to collect toys, and will happily arrange pick-ups for those who can donate 20 or more toys. Individual donors can drop off or send toys to a Hermann drop location listed below.
To schedule a toy pick up please contact:
JD Wilson
(800) 524-0067, Ext. 117
email: jdwilson(at)hermanntds(dot)com
In order to gain the most success in gathering toys, Hermann is hosting an exciting event!
On December 10th, bring a toy and get family and friends to join Hermann at their headquarters, 83 Stults Road in Dayton, NJ from 10am to 1pm. Santa will be making a special appearance to take pictures with all those who bring a toy for Toys for Tots.
###