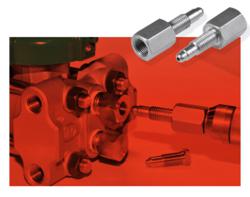 Minneapolis, MN (PRWEB) November 30, 2011
FasTest announces the VP Series connector. Designed for insertion into a transmitter vent port, VP Series connectors allow calibration without disconnecting an instrument. The vent port plug is simply removed and a connector is inserted and tightened in the field. By facilitating calibration directly on a transmitter's bleed port, VP Series connectors save significant time otherwise required for removal, transport to a shop and reinstallation of the device.
Featuring a standard 1/8-inch NPT female termination port that connects onto the company's FasCal hose assembly, VP Series connectors deliver simple, plug-and-play flexibility. The connectors are compatible with Rosemount®, Yokogawa, and other transmitters equipped with a 5/16-24 vent plug. Manufactured from heat-treated 416 stainless steel, VP Series connectors provide high reliability and long-lasting performance.
Providing an alternative when calibration is required or desired in the field, VP Series connectors eliminate the need for redundant systems—since they do not require a back-up device to be utilized while transmitters are uninstalled and transported to a shop for calibration.
For additional information, including contact information for lead reports, contact FasTest's publicist: Jaclyn Larson (Next Communications). Phone: 952-934-8220. Email: jaclynl(at)nextcom(dot)com.
FasTest designs and manufactures connectors for productivity improvements in filling, calibration, flow, pressure and vacuum testing applications. FasTest's complete line of specialty connectors is designed to provide leak-tight, reliable connections for process and industrial manufacturing applications. Custom leak test capabilities are available for unusual or unique requirements.
For additional FasTest products or information, contact:
1-800-444-2373 • http://www.fastestinc.com • fastsales(at)fastestinc(dot)com
###