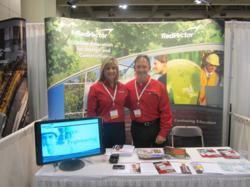 "With the explosive growth of the green building industry, AEC professionals need a quality CE and training solution they can really count on." Kelly Conlon, Marketing Communications Manager for RedVector
Tampa, FL (PRWEB) November 30, 2011
RedVector.com, the leader in online CE and green building education for the architecture, engineering, and construction industries, will showcase its renowned CE and services December 7–9 at Ecobuild 2011 in Washington, D.C. The widely popular event brings together AEC industry leaders from across the country to explore the latest in green building technology, products and proven strategies to improve future projects.
RedVector will be located at Booth 328 inside the Walter E. Washington Convention Center, where visitors can preview what the eLearning company has to offer—including nearly 200 hours of online courses and certificate packages on green building education, plus a robust compilation of LEED online courses and LEED CMP training tools. RedVector's industry-leading AEC Learning Management System combines the latest eLearning technology with convenient 24/7 access, full reporting, and live client support available seven days a week.
"This is our first year attending Ecobuild so the excitement is palpable," says Marketing Communications Manager Kelly Conlon. "With the explosive growth of the green building industry, AEC professionals need a quality CE and training solution they can really count on to advance their expertise and land the best projects. At RedVector we're constantly updating and adding to our green building education library with new courses, course packages, webinars and more to meet their needs."
In addition to exclusive free gifts, industry professionals who visit RedVector at Booth 328 will receive a free 2-hour online green building course: Going Green with BIM and GIS, which examines the importance of using Building Information Models (BIM) and Geographic Information Systems (GIS) to ensure consistency in coordinating changes for the design team and allow advanced visualization prior to project siting, design, or construction.
About RedVector
RedVector sets the standard for excellence in traditional and green online continuing education for licensed and certified professionals in the architecture, engineering and contractor arenas. A USGBC-approved provider with more than 70 online courses making up nearly 200 hours on green and sustainable design topics, RedVector serves more than 130,000 design and construction professionals with accurate, engaging, and interactive educational content. The recipient of numerous community honors and industry awards, RedVector was founded in 1999 and is headquartered in Tampa, Florida. For further information call 1-866-546-1212 or visit http://www.redvector.com.
###