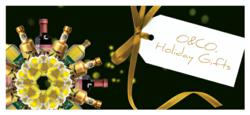 New York, NY (PRWEB) November 30, 2011
It is that time of the year when thoughts turn to corporate gifts for those who have been loyal customers throughout the year. A well thought out holiday gift can be one of the best ways to deliver gratitude to the most crucial ingredient to business – it's clientele.
O&CO. offers a line of high-quality body, face and hand products made with olive oil and other organic products. Olive oil, especially extra virgin because it is the most beneficial for skin, is found in skin care products such as lotions, soaps and creams. Olive oil helps the body retain its moisture and elasticity. Remember though, organic, high quality olive oil products are not just for female clients as men appreciate having access to organic soaps, hand lotions and body wash.
Consider putting together a high quality gift basket of items from O&Co. for your most-valued clients. Choose items to fill a "cooking gift basket" such as gourmet olive oils, a bouquet of cooking herbs, a fruity vinegar duo, gourmet pasta, sauce and purchase a loaf of crusty bread and you've put together a gift that is certain to leave a lasting impression.
From truffles to quality crackers and spreads, a corporate gift basket of items from O&Co. will be one that is long-remembered by corporate clients. When clients unpack and use the items for their at-home holiday entertaining, the name of your business is certain to come up when the guests ask where the gourmet olive oil, truffles and other high quality food items came from and that word-of-mouth advertising is worth more than money can buy. Make holiday gift giving one that sets a company apart from the time it is delivered and every time the quality items are used.
###