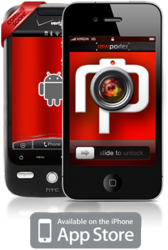 Get News. Get Famous. Get Paid.
Charlotte, NC (PRWEB) November 30, 2011
More people than ever before are capturing newsworthy events on smartphones, but often they are forfeiting their rights to that content by posting it on Twitter, Facebook, and YouTube. Now Rawporter, a free iPhone App currently in Beta, will help everyday people get the cash and the credit they deserve for capturing video and images of newsworthy events. Rawporter also notifies users when they're near breaking news, increasing the chances they'll get paid.
Breaking news happens when people least expect it, and most people don't know how valuable the content they capture can be to the media. Rawporter solves that problem by providing a real-time distribution platform to bridge that gap easily and effectively.
"We're very excited to fill a void in the market that benefits the average person in the right place at the right time and media outlets alike," said Kevin Davis, co-founder of Rawporter. "We're already getting positive feedback and learning a great deal from our Beta release."
Janis Krums, best known for posting the first image of the "Miracle on the Hudson" on Twitter knows how quickly a simple picture can become a phenomenon. "I never imagined that the picture I took would be used by so many media outlets and seen by so many people," said Krums. "I'm sure I only got a fraction of the cash and credit that I could have earned. I invested in Rawporter to help people like me get the recognition they deserve."
"We're thrilled to have Janis' support. He has personally experienced the power of raw news and his media expertise makes him a perfect fit for Rawporter," said Davis. "His investment is another demonstration of the significant value Rawporter provides the modern media marketplace."
Founders Kevin Davis, Rob Gaige and Michael Robinson recently beta launched Rawporter at Geek Fest in Charlotte, North Carolina. Rawporter is creating a more economical source for user generated raw news content that will help mainstream and new media partners instantly break news without having to wait for crews to arrive.
About Janis Krums
Angel Investor in Rawporter, AIT Bridges and MemSQL among others.
Consultant in New and Social Media, Web Marketing and Usability.
Co-Founder of Elementz Nutrition and InboxAlarm.
Krums currently resides in Sarasota, FL.
http://about.me/JanisKrums
About Rawporter
Rawporter connects the media and the masses by creating an on-demand mobile news force that captures events as they are happening without the delay and expense of sending out a traditional news crew.
Founded in September 2010, Rawporter is located in Charlotte, NC.
media(at)rawporter(dot)com
http://www.rawporter.com
###