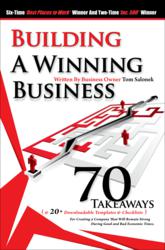 It's an honor to be interviewed on such a distinguished show
Saint Paul, MN (PRWEB) November 30, 2011
Tom Salonek, CEO and Founder of Intertech, author of the book building a Winning Business, and writer of a Leadership Blog will be interviewed on November 30, 2010 at 12:00 PST on The American Businessperson with host Rich Killian. Listeners can tune in live at VoiceAmerica.com
The interview will cover Intertech's background, lessons learned from building a business, and the book "Building a Winning Business: 70 Takeaways for Creating a Strong Company during Good and Bad Economic Times."
The interview consists of four parts. In part one, Rich talks with Tom on the history of Intertech, how his first job out of college became an inspiration for him to start his firm, and the growth Intertech has experienced over the past two decades.
In the second part of the interview, Rich and Tom discuss hiring best practices including avoiding hiring mistakes, how to hire only top performers, the best way to make an employment offer, how to bring on new talent.
In the third segment of the interview, leadership is the focus. Questions are answered like what does it mean to be a leader? What do you do when things go bad and you're in charge?
The final segment covers execution where Tom shares tips from the book that save time and allow a firm to focus on the business of business.
About The American Businessperson
"The American Businessperson – Promoting American Dreams" talk show host Rich Killian will conduct business discussions with selected guests. Listeners will learn from business owners' experiences, both successful and not, as Rich invites guests to share lessons learned and wisdom gained. Rich will raise the evolving businesspersons' questions, welcome debate, and exact solutions. Rich will draw out the broadest range of business approaches and practices to help aspiring listeners gain perspective and thereby tackle problems with new information. Via multiple formats, both established and fledgling entrepreneurs will talk business: how to start, how to compete, and how to triumph.
About Tom Salonek and Intertech
Tom Salonek is the founder and CEO of Intertech, a Minneapolis-based technology consulting and training firm. In 2005, he was named one of Minnesota's Top Business Leaders under 40. Intertech has been named twice to INC 500's list of fastest growing companies, and is also a seven-time winner of the Business Journal's Best Places to Work award. In 2003, Salonek founded the Intertech Foundation to financially assist families with critically ill children.
Tom Salonek has completed executive education at the Harvard School of Business and the Massachusetts Institute of Technology and is a past instructor at the University of St. Thomas Management Center. He holds a degree in Computer Science from the University of St. Thomas. Salonek has written more than 50 articles on business, leadership and technology.
###