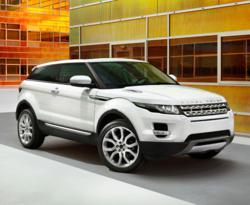 The Evoque is a striking vehicle that appeals to the more environmentally conscious SUV buyer.
Paramus, NJ (PRWEB) November 30, 2011
Prestige Land Rover of Paramus, one of the largest Land Rover dealerships in the world, continues to drive strong sales of the all-new Range Rover Evoque. Prestige has sold over 75 units (and counting) of the new luxury SUV since its stateside arrival in October 2011.
General Manager Martin Hall has been impressed by the amount of interest in the Evoque from first time Land Rover buyers. "Sales of the Evoque have been outstanding overall, but we're excited that it's attracting new customers," said Hall. "It's a striking vehicle that appeals to the more environmentally conscious SUV buyer. Land Rover has tapped into a new market with the Evoque that will hopefully develop into the next generation of loyal Land Rover owners."
In naming the Range Rover Evoque its 2012 "SUV of the Year," Motor Trend praised the new crossover SUV for its "combination of styling, prestige, dynamic capabilities, and off-road abilities that the competition will struggle to match." Constructed from innovative, lightweight, yet sturdy materials, the Evoque delivers fuel economy of 28 MPG EPA highway and 19 MPG EPA city. Further, says Motor Trend, the Evoque accomplishes this while retaining "off-road prowess that would embarrass most crossovers … in a compact, fun-to-drive, and easy-to-park package." The Evoque is available as a sporty 3-door coupe, and also as a 5-door model.
The current generation of Land Rovers is the culmination of 60 years of multi-terrain SUV manufacturing expertise. Land Rover engineers world-class, sophisticated vehicles, while leading the way in luxury and performance. Land Rovers and Range Rovers continue to captivate loyal owners and demand attention on and off the road with their unique style.
Customers interested in the lease of a Range Rover Evoque or those who prefer purchase options should call General Sales Manager Greg Fioretti on his direct line, (201) 987-8900, to schedule a sales appointment and a test drive.
About Prestige Land Rover of Paramus
Established in 1986, Prestige Land Rover of Paramus is one of the largest volume Land Rover dealerships in the world. Thousands of consumers have become proud Land Rover and Range Rover owners and lessees, thanks to Prestige's knowledgeable sales staff, experienced financing department, and expert service technicians. Prestige Land Rover is a member of the Prestige Auto Group, which is the 20th largest dealership group in the United States.
###