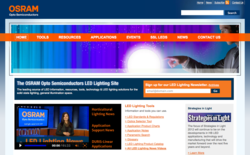 Having a dynamic platform is key to the success of this site which has experienced tremendous growth over the past year.
Regensburg (PRWEB) November 30, 2011
Today, OSRAM Opto Semiconductors released "LED Lighting News," a new video series on OSRAM Opto Semiconductors' LED Light Site, to further engage site visitors by providing information on LED industry trends and highlighting the LED lighting manufacturer's most popular and state-of-the-art products, services and events.
The global LED manufacturer's first set of LED news videos will feature topics such as horticultural lighting, application support, and street and area lighting, among other key industry concepts.
OSRAM Opto Semiconductors plans to release 24 videos over the next year, each featuring topics relevant to engineers and designers interested in learning more about LEDs and LED technology.
The goal of the new video series is to provide viewers with another resource to learn about LED lighting in an interactive way. The videos offer general news for anyone interested in LED applications, from savvy LED lighting customers to those simply looking to explore information on LED lighting techniques and products.
"The LED Light Site continues to evolve as we respond to user feedback and introduce new elements and content," said Kate Cleveland, Marketing Communication Manager at OSRAM Opto Semiconductors. "Having a dynamic platform is key to the success of this site which has experienced tremendous growth over the past year. We believe the LED Lighting News video series will further that growth by delivering relevant content through an engaging medium."
In conjunction with the launch of its new LED Lighting News video series, OSRAM Opto Semiconductors has also introduced a new homepage and an updated events section on its LED Light Site. The homepage has been updated to deliver enhanced navigation and easy access to the site's most popular resources. The flagship of the new homepage will be the new video series, offering users the option to scroll through and watch multiple videos.
The new events page will highlight three events where OSRAM Opto Semiconductors will have a presence, including Lightfair International, the Hong Kong International Lighting Fair and the upcoming Light + Building Show. At Lightfair 2012, OSRAM Opto Semiconductors will host its third virtual trade show and will continue to keep LED fans, engineers, students, designers and enthusiasts updated with videos and photos through the new event page. Each year, information from events will be archived and organized so viewers can look at photos and videos from years past, and see how events have grown.
###