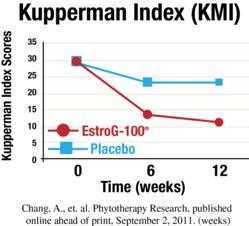 Swanson Health Products now offers a vegetarian feminine balance formula, Swanson Ultra EstroG-100®.
Fargo, ND (PRWEB) November 30, 2011
Maintaining a healthy hormone balance is key for comfort during menopause. While menopause affects every woman differently, hormone imbalance is a primary factor in the cause of symptoms associated with the change of life such as hot flashes, mood swings and night sweats. Swanson Health Products now offers a vegetarian feminine balance formula, Swanson Ultra EstroG-100®.
Swanson Ultra EstroG-100's exclusive formula features traditional Korean herbs Angelica gigas (dong quai), Phlomis umbrosa (sok-dan) and Cynanchum wilfordii (keon-jo-rong). This proprietary blend promotes physical comfort, recovery and restful sleep, bolsters the nervous system and features natural, estrogen-supporting phytonutrients. Together, EstroG-100's blend of standardized extracts promotes a healthy hormone balance.
Phytotherapy Research recently published a randomized double-blind, placebo-controlled trial of EstroG-100 which concluded, "EstroG-100 significantly improved the menopausal symptoms of pre-, peri- and post-menopausal women without weight gain or any serious side effects." Trial participants who used EstroG-100 scored lower on the Kupperman Index than those who received the placebo. The Kupperman Index is a numerical index that scores 11 menopausal symptoms: hot flashes, paraesthesia, insomnia, nervousness, melancholia, vertigo, weakness, joint or muscle pain, headache, palpitations and formication. The higher the score, the more severe the symptoms.
Swanson Health Products is an industry leader in bringing vitamins directly to consumers at the lowest prices possible. Swanson Health Products, headquartered in Fargo, ND, offers the highest quality vitamins, supplements and natural health care products and is Good Manufacturing Practices certified. Swanson Health Products goes a step beyond its competitors by offering powerful guarantees. All products are backed by a 100% Satisfaction, Money-Back Guarantee. For more information, please visit http://www.swansonvitamins.com.
# # #