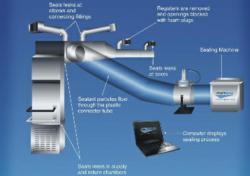 Aeroseal has already been used to seal air duct leaks in thousands of U.S. homes and buildings and is saving home owners up to $850 per year on energy bills-the U.S. DOE
Chicago, IL (PRWEB) November 30, 2011
The Chicago-based, energy solutions company, Priority Energy, announces findings that air duct sealing is a critical part of home energy conservation, as noted by the U.S. Department of Energy and their recent website posting that recognizes the benefits of the Aeroseal duct sealing technology. The inclusion of this technology on the DOE website, highlights the ground-breaking nature of the Aeroseal solution and helps inform the public about the role air duct sealing plays in saving energy and lowering utility costs. Leaky air ducts are responsible for a huge energy loss problem all across America, but now there is a solution. The patented Aeroseal process is a relatively inexpensive, clean way to attain better indoor air quality, increase a home's comfort, and save energy.
"What we'd like people to know is the total heating and cooling efficiency of their home is determined by multiplying the efficiency of their heating and cooling system by the efficiency of their duct system. Since most ductwork is only 60-70% efficient, even if they have a 90% efficient furnace, it's likely the actual efficiency is between 54-63%, meaning they are wasting 37-46% of the gas or electricity they are paying for. Duct leaks are also a big part of comfort problems and poor air quality in homes and office buildings. The Aeroseal technology can solve numerous problems caused by leaky ducts without breaking through walls and ceilings," says Rob Schildgen, owner and founder of Priority Energy. "We have had tremendous results from the application with customers reporting almost immediate improvement in overall home comfort."
Priority Energy is dedicated to educating home owners, business owners and contractors about developments in the energy conservation industry and the options available to them. As such, new studies show that duct sealing is typically the most effective thing you can do to save energy costs; more than twice as effective as upgrading heating equipment and even more than double when compared to insulating an attic or upgrading windows. Aeroseal has already been used to seal air duct leaks in thousands of U.S. homes and buildings and is saving home owners up to $850 per year on energy bills. According to data on the DOE website, Aeroseal technology has the potential to save Americans an estimated $5 billion a year on heating and cooling costs.
About Aeroseal
Aeroseal is administered as a non-toxic mist that is pumped throughout the inside of a home or building's duct system. The aeroseal mist locates and stops leaks found anywhere within the duct work including those hidden behind walls or under insulation. It is a clean, safe, nondestructive process that, in most cases, can be completed in one day. Earlier this month, Aeroseal was named one of the Best Technologies of 2011 by This Old House Magazine. The technology also received the Energy 100 Award from the Energy Department and The Best of What's New award from Popular Science Magazine. Besides sealing ducts in thousands of residences, Aeroseal has been successful in commercial buildings across the country, including hospitals, universities and casinos.
About Priority Energy, LLC
One of the only authorized Aeroseal dealers in the Midwest, Priority Energy has highly trained and certified Aeroseal technicians. They have a team of RESNET and BPI Certified Energy Auditors with backgrounds in engineering and building sciences to provide the knowledge and services customers need to conserve energy and create a more comfortable and durable home or business. In 2010, the company audited over 1,000,000 square feet of residential and commercial space. They also are a top-rated Energy Auditor training provider for RESNET/HERS Raters, BPI Certifications and Energy Star training. As the majority of the Midwest has adopted the IECC 2009 standard, the company also provides design and verification services.
# # #