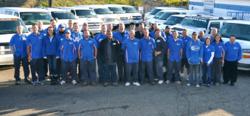 The launch of the franchise specific website is one of a series of significant steps we are taking to improve our internet presence and ultimately generate more brand awareness
Akron, Ohio (PRWEB) November 30, 2011
Ultragloss America launched its new website today to offer prospective buyers an in depth look at their automotive franchise opportunity. "As a new franchise operation, we want to make the information pertaining to our offering readily available and easily accessible for potential investors," stated founder Steve Marble earlier today.
The new website, UGAfranchise.com, presents a wide range of material surrounding the franchise industry and information specific to the Ultragloss franchise. Information on the website includes a cost breakdown, frequently asked questions, and additional franchise resources. "We are working on developing more content. The first goal was to make our information easily accessible and now we are focused on collecting more data from others in the industry to assist potential buyers. Even if Ultragloss is not their choice for a franchise, we still want to help them get informed about other areas of this growing industry," Marble explained.
"The launch of the franchise specific website is one of a series of significant steps we are taking to improve our internet presence and ultimately generate more brand awareness," Ultragloss General Manager, Josh Chancey, added.
Ultragloss began its franchise operations May 5 of this year. "It has been a challenge getting up and running. Crossing all of our 'T's', dotting all of our 'I's'. We have been really fortunate to work with some great companies and people along the way and it is definitely a learning experience. I have been in the automotive industry for over 20 years and it is truly amazing how all of this has come together," Marble exclaimed.
The company plans to add more technologies to their existing program. They continuously engage the Ultragloss Learning Management System, Ultragloss University, where new franchisees can train from home and better prepare for the UG Boot Camp in the months to follow. The LMS remains available to franchisees even after they complete training so they have access to everything they learned in training and the new technologies the company introduces.
"We want our lines of communication open at all times. We want our people to have access to the resources they need when they need them. We recognize the challenges of the industry and any way that we can ease stress for the crews we have out on the road, the better off we are as a collaborative organization," Chancey explains.
Anyone interested in an Ultragloss franchise can access information directly at http://www.ugafranchise.com or call 1-855-GET-1-UGA (438-1842).
###