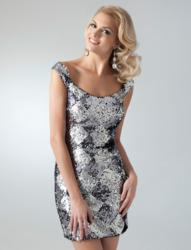 The holidays are one of the most important times of year to look and feel your best and what better way to do both then with a brand new designer dress for that special end of the year get together."
Philadelphia, PA (PRWEB) November 30, 2011
Another Black Friday and Cyber Monday have come and gone and yet again Promgirl.net has helped many young ladies throughout the United States and the world find stunning holiday dresses at spectacular prices. Monday November 28th 2011 was Promgirl.net's most successful Cyber Monday since the website went into operation in 1999 and has officially kicked-off a holiday sales season that will be filled with coupons, promotional giveaways, free accessories and sale dresses marked down from Promgirl's already competitive prices.
With the holiday season right around the corner gifts for friends and family aren't the only things that need buying, as fashionistas everywhere are searching for that perfect formal dress or evening gown for their holiday party or New Year's Eve celebration. Promgirl.net meanwhile is gearing up for the biggest prom season yet and has plenty of beautiful special occasion dresses that must go to make room for the newest prom styles from premier designers like Jovani, Tony Bowls, Clarisse, Terani, Alyce and many more.
Promgirl.net is currently offering unbelievable savings on ladies formal wear through their new SUPER SALE promotion which will run all the way through the New Year. In addition to this sale, which features designers gowns for as little as $45.00, Promgirl.net will also be offering shipping coupons, additional discounts and even free shoes.
"Here at Promgirl we are thrilled that so many girls chose our site on Cyber Monday to purchase their holiday dresses." Said Sunny Adrian, President of Promgirl.net "The holidays are one of the most important times of year to look and feel your best and what better way to do both then with a brand new designer dress for that special end of the year get together."
Mr. Adrian went on to note that "now is the best time of year to find bargains on long and short dresses wherever you go and you won't find a more diverse and affordably priced collection then here at Promgirl.net. Every dress we can sell is that much more new inventory we can stock for prom and every dollar that you can save when buying your holiday dress is another dollar you can put towards the rest of your holiday shopping."
With the brand new layout of the site Promgirl.net offers online shoppers everything they could need to help make the most informed decision when purchasing their special dress, which may explain why more and more shoppers put their trust in Promgirl.net with each holiday season.
Promgirl.net encourages anyone searching for a gorgeous holiday gown to keep an eye on the website because it will feature more coupons, special offers and sales as the season progresses. Mr. Adrian also added that "Promgirl.net would like to wish everyone a happy and healthy holiday season."
Promgirl.net has more than 25 years experience in retail and e-commerce operations and offers a large selection of cocktail and formal dresses. With a large inventory and a fast shipping strategy Promgirl.net offers one of the best experience for the purchase of dresses and gowns on line. For additional information contact Promgirl.net at 18779007766 or on line at http://www.promgirl.net
###