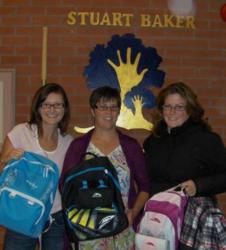 We recognized that many families face a financial burden in providing back-to-school supplies for their children when school starts up, so our staff decided to contribute some necessities
Haliburton (PRWEB) November 30, 2011
The staff-driven Community Ambassadors Committee at Patient News has gone the extra mile to provide local school children with the materials they need to succeed. The Committee gathered donations to fill new backpacks for two girls and two boys in the surrounding community.
"We recognized that many families face a financial burden in providing back-to-school supplies for their children when school starts up, so our staff decided to contribute some necessities," said Joanne Bishop, Vice President of Patient News.
Patient News is well known in as a high-profile employer and contributor in Haliburton County. Named one of Canada's Greenest Companies, Patient News has also been recognized for two consecutive years by PrintAction as the Most Environmentally Progressive Printer, and for three consecutive years by WhatTheyThink.com with an Environmental Innovation Award. Most recently, the company hosted a Halloween Candy Buy-Back to send 18 pounds of candy to troops stationed at Camp Phoenix in Afghanistan.
For more information on Patient News, please contact jbishop(at)patientnews(dot)com, 705.457.4030 x 223
About Patient News
Patient News is North America's most trusted resource in helping dental practices succeed. Patient News offers a wide range of offline and online comprehensive and innovative dental marketing and advertising solutions. Founded in 1992, our award winning company offers dental advertising and healthcare marketing products in Canada, the United States, and the United Kingdom.
###