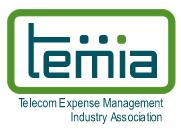 Despite our differences, it was amazing to see how we can work together to address many common industry challenges.
(PRWEB) November 30, 2011
The Telecom Expense Management Industry Association (TEMIA), the authoritative voice for the Telecom Expense Management (TEM), Wireless Expense Management (WEM), Mobile Device Management (MDM) and solutions providers in related areas recently hosted a meeting for its members in Boston. Twenty-five companies and 31 attendees came to the meeting. The Solution Providers represented a wide range of different approaches to Telecom Expense Management, Wireless Expense Management, Mobile Device Management and other related areas.
TEMIA's meeting provided a unique opportunity for some of the best-known solution providers to break from competing for client business to do some networking and exchange their views. There was a palpable buzz from lively networking during the breaks. Through this meeting and its other programs, TEMIA's forum also provided industry thought leaders opportunities to build a positive future for the TEM market.
"Companies are experiencing explosive growth across their smartphone landscape. With BYOD initiatives and new corporate policy issues, there is a need for MDM, mobile anti-theft and recovery. This creates a unique opportunity for TEMIA to take a leadership role across the industry…I found that the TEMIA meeting enabled executives to collaborate, take on tough issues and share best practices which strengthen why TEMIA members matter," said Ralph A. Rodriguez Chairman and CEO of New Technologies and Associates.
"This was my first time attending a TEMIA meeting. Despite our differences, it was amazing to see how we can work together to address many common industry challenges," said Greg McIntyre, President of Tellennium Group. "The meeting also helped solidify my support for TEMIA in its ability to bring greater awareness to the TEM/WMM industry while establishing foundational standards and ethical practices. It was great to see how the experiences of TEMIA members play a role in shaping the association's agenda and decision-making. I definitely plan on attending more meetings in the future," he added.
"This meeting was a much more positive experience for me than the previous meetings I have attended, because those meetings coincided with trade shows held during the day, leaving only a few hours after dinner to conduct TEMIA business, when people were tired and less able to focus. In contrast, I found this meeting to be very extremely productive… because we had a full dedicated day to focus on TEMIA issues," said Roger Challen, a Director of Mer Telemanagement Solutions, LTD.
"There is something magical that occurs at TEMIA meetings we see the depth of thought-leadership within the association, the diversity of vendors (large and small, comprehensive and niche) and gauge the overall health of our industry," said James Price TEMIA executive board president, and president of ICOMM Consulting. "It was interesting to see how the group kept returning to the themes of focusing on things that are achievable and staying on course with its mission of promoting TEM/WEM/MDM to grow the market," added Price.
In the weeks that led to the dinner, TEMIA added three new members. Many founding firms and executive board members noted that the organization has grown. Membership growth marks an important achievement in terms of how industry participants see the value of TEMIA.
TEMIA's Executive Board charters eight committees, which manage the work of the association. Most committees meet once a month by phone to advance the goals of the association through collaboration and dialog. Last year TEMIA's focus was the Ethics Code. With this initiative firmly established, TEMIA is ready to tackle some new priorities.
TEMIA now has clear deliverables from this meeting that will enable it to build on its past success and help its member companies maximize their investments in the association. There is work to do on The Future of TEM, Market Sizing, and Market Health. In addition, TEMIA will develop future papers and surveys for its members. Finally, the association also has clarity on areas where it will, and areas where it will not work with its members to expand internationally.
About TEMIA
The largest Telecom Expense Management solution providers founded TEMIA, in 2006. Since that time, TEMIA has grown to 39 members with international corporate headquarters managing over $61 billion of telecom and data spend.
TEMIA's mission is to raise awareness and knowledge of the values and benefits of Telecom Expense Management TEM, Wireless Expense Management WEM, and Mobile Device Management MDM solutions, to improve the quality and value of these solutions through the development and promotion of open industry standards, and industry knowledge among Solutions Providers, business partners, telecom service providers, and enterprise clients.
For more information about TEMIA, visit http://www.temia.org.
###