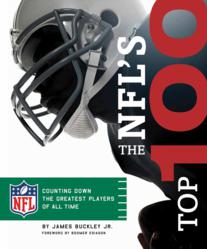 "Starting the list is easy. There are those special players that jump out at you while you are watching the game. It's making the final list that makes you think about what it takes to be chosen." - Boomer Esiason
San Diego, CA (PRWEB) November 30, 2011
For the first time, NFL Network rankings of the league's top 100 players of all time will be in print in the new book, The NFL's Top 100 (from Thunder Bay Press $29.95, 176 pages, ISBN 978-1-60710-303-5). Available just in time for the holidays, this book is based on the network's show which counted down the 100 greatest players in NFL history, as determined by a blue-ribbon panel of football experts, including former players, historians, scouts, team executives and writers. Written by James Buckley Jr., and with a foreword by Boomer Esiason, this new book is full of beautiful photographs and intriguing stories about players from the past and the present day.
"Starting the list is easy," writes Esiason in the foreword. "There are those special players that jump out at you while you are watching the game. It's making the final list that makes you think about what it takes to be chosen."
As announced on the show's November 2010 finale, Jerry Rice leads the NFL's Top 100 at number 1. With 208 touchdowns in his NFL career, the most by any player ever, Rice was a clear pick for the top spot.
As the book chronicles, the players ranked in the Top 100 are the elite of the elite -- comprising a miniscule percent of the more than 20,000 players that have played in the NFL since its inception in 1920.
The NFL's Top 100: Counting Down the Greatest Players of All Time is now available online at amazon.com, barnesandnoble.com, and wherever fine books are sold.
About Thunder Bay Press:
Thunder Bay Press (http://www.thunderbaybooks.com) is an imprint of Baker & Taylor Publishing Group, the largest distributor or traditional and digital media in the world. Thunder Bay is a collection of coffee table-style reference books suitable for gift-giving on the subjects of art, architecture, pets, cooking, travel, culture, hobbies, religion, transportation and nature. Thunder Bay Press is perhaps most known for its best-selling Then and Now series.
With over 50 titles featuring cities from all over the United States and abroad, Then and Now continues to grow and includes titles in second editions as well as compact editions.
###