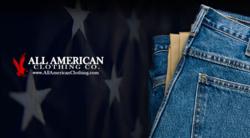 I've had opportunities to go foreign & make larger profits. This company is not only about money. It is about people, jobs, humanity, family, and future generations. I will not trade foreign made profit at the expense of my loyal employees.
(PRWEB) November 30, 2011
With 2011 near the end, All American Clothing Co. is experiencing their best year since its start in 2002. The USA made clothing manufacturer/retailer is experiencing a year where sales are up nearly 60% from last year. With their passion for providing high quality, comfortable, USA made products; All American Clothing Co. is "making a difference" by creating/sustaining jobs within the USA borders.
With record high sales already and before Christmas, All American Clothing Co. has promised to not only make a difference in creating jobs, but improving lives and rewarding those who deserve recognition. As a small sample of what they do; All American Clothing Co has been a part of two separate campaigns in supporting Breast Cancer Awareness and being a participant for the Wounded Warrior Project. The company makes an effort to involve USA citizens to become a part of the push to bring back USA made manufacturing, enhance the economy and support those who need help by supporting USA manufacturing.
With their interest and caring for society and country, All American Clothing Co. has experienced success with the media to inform others about their mantra. The company has been featured on CNBC, Ed Shultz Show, GBTV with Glenn Beck, ABC News, The G. Gordon Liddy Show, The Roger Hedgecock Show, Entrepreneur.com with "Turnaround King`s" Grant Cardone, and was recently named Fox Business`s "Small Business of the Day" on Thanksgiving Day.
Amidst the companies` seasonal production, sales, and media marketing; the company is most honored to announce its` recent award from the servicemen and women of the 76th Expeditionary Rescue Squadron who are serving in "Operation Enduring Freedom." All American Clothing was awarded an honorary flag and plaque from the squadron. The American flag delivered to the company`s address is their proudest achievement to date.
Despite all the positive achievements, All American Clothing still expresses the same passionate vision that they had in 2002 when the company started; "make a difference and make something happen today". Their ultimate goal: "create and sustain more jobs in the USA!"
To learn more about this small business go to http://www.allamericanclothing.com for more details.
###