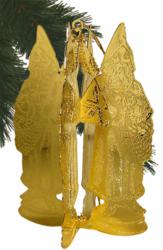 The specialty gift, jewelry and museum store channels will be thrilled with the combination of Made-In-America and the prompt availability this Holiday season.
Milford, MA (PRWEB) November 30, 2011
Vaillancourt Folk Art ("VFA") and Photofabrication Engineering, Inc. ("PEI") team up to unveil an elegant interlocked, 24kt gold finished Santa Ornament completely made in the USA and inspired by one of VFA's oldest chalkware molds, "The Red Father Christmas with Pointed Hat" from the Eppelshiemer's catalog, just in time for the 2011 Holidays and for distribution through specialty gift, jewelry and museum store channels.
"As a family business in Massachusetts that has survived the economic turmoil of recent years by offering personalized craftsmanship, we were thrilled to find a like minded partner in another family business which, ironically, is also in Massachusetts," explains Gary Vaillancourt, owner of Vaillancourt Folk Art. Chip Lehrer, president of Photofabrication Engineering Inc., agrees noting, "we could bring to the table a traditional 3D interlocked construction with intricate detailing that allows Gary, Luke and Judi Vaillancourt to build upon their historic success in high-end, museum quality Christmas offerings."
Both PEI and VFA are encouraged by the local collaboration and anticipate additional offerings for the 2012 season. Brook Spaulding, PEI's Director of Sales and Marketing, adds, "the specialty gift, jewelry and museum store markets will be thrilled with the combination of Made-In-America and the prompt availability this Holiday season for a 3-3/4" tall ornament. With the job market in turmoil it is nice to be able to turn to a local source and not China for a little Christmas spirit."
Luke M. Vaillancourt, VFA's Director of Digital Marketing, points out, "the result of the partnership between two Massachusetts companies is astonishing. Not only are we able to provide an economic justification for the work, but the resulted ornament's quality is astonishing: especially at its price point. Similar to the nostalgic feeling of museum quality gold ornaments, the interlocking Santa Ornament brings together the recognition of the Vaillancourt brand of quality together with PEI's reputation of quality precision work."
The VFA interlocking Santa Ornament is available for sale today in-store or on-line at Vaillancourt Folk Art's retail studio and gallery in Sutton, MA while PEI in Milford, MA has the Santa Ornament available at wholesale pricing for select specialty gift, jewelry and museum stores.
Established in 1968, Photofabrication Engineering, Inc. ("PEI") is located in Milford, MA. For more information about the firm's decorative and keepsake capabilities and wholesale inquiries contact Brook Spaulding at 1-508-478-2025 x116 (email: bspaulding(at)photofabrication(dot)com). One may also visit http://www.decorativeetching.com or see the short YouTube video.
Vaillancourt Folk Art has been creating highly detailed, hand-painted collectible chalkware from antique moulds in their Sutton, Massachusetts studios since 1984. With a goal of creating that one special gift that will be handed down for generations, Vaillancourt chalkware is an original form of art. Still family owned and operated, Vaillancourt products are available to 500 stores around the nation, including Nordstroms, Neiman Marcus, Williamsburg, Museum of Fine Arts, Boston and hundreds of small shoppes. Their Sutton Studio, Museum, and gallery is open daily, Monday through Saturday 9-5 and Sunday 11-5 and is located at 9 Main Street, Sutton, MA 01590.
###