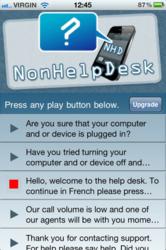 For Pig Latin, press 8," is just one of the funny options presented to callers.
Richmond, BC (PRWEB) November 30, 2011
Announcing that Bitbase Technologies Inc. the developers of The NonHelpDesk, has released an entertaining product for iPhone, iPod touch and iPad users. A newly launched product in the App Store, NonHelpDesk makes a hilarious mockery of those annoying automated help desk systems. Professionally recorded audio messages convincingly deliver funny helpline options that are perfect for playing pranks or just having a laugh. The download is free of charge and includes five messages, with an in-app purchase available that unlocks an additional six.
"For Pig Latin, press 8," is just one of the funny options presented to callers when they've availed themselves of the anything but helpful, NonHelpDesk. This application is a new launch in the App Store and it is a prankster's dream come true.
This application contains convincing audio that's been recorded by a professional disc jockey. That's the key to its success and why it works so well when it comes to playing tricks on others, or simply enjoying the mockery of those annoying automated help desk systems. People don't realize initially that they're listening to a faux helpline menu. They do tend to clue in when asked for a forty-seven digit pin number, or asked to press '6' if they own a skipping rope.
NonHelpDesk pokes fun at those things that everyone hates about automated message systems. The result is often hilarious.
These are some of the fun features offered in NonHelpDesk:

Easy to use interface
Professionally recorded, realistic audio
5 free, hilarious messages
Great for pranksters, techy people and those who are sick of automated systems
Free to download and use
In-app purchase available to unlock 6 more voice statements, remove splash screen and ads - only $0.99 (USD)
Users are able to download and enjoy NonHelpDesk for free. If desired, for only 99 cents U.S., they can also make an in-app purchase to unlock an additional six messages.
Device Requirements:

3G iPhone, iPod touch and iPad
Requires iOS 3.0 or later
5.0 MB
Pricing and Availability:
The NonHelpDesk 1.0 is Free, with in-app purchases available for $0.99 (USD) and available worldwide exclusively through the App Store in the Entertainment category.
The NonHelpDesk 1.0
Download From iTunes
YouTube Video 1
YouTube Video 2
Media Assets
Bitbase Technologies Inc. is a Canadian based software development and marketing company, based in British Columbia. Bitbase creates innovative online and mobile applications for a variety of users worldwide. Copyright (C) 2011 Mobile-App-Marketing-Makeover. All Rights Reserved. Apple, the Apple logo, iPhone and iPod are registered trademarks of Apple Inc. in the U.S. and/or other countries.
###