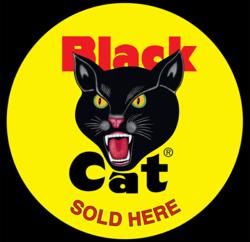 (PRWEB) November 30, 2011
Winco Fireworks is offering a wide selection of Black Cat Brand Fireworks in Puerto Rico now through New Year's Eve. Look for large selections of: Fountains, Ground Spinners, Sparklers, Smokes and Assortments.
Look for Black Cat brand fireworks at these participating stores and/or parking lots: Farmacias Aliadas, Topeka Department Stores, Selectos, Farmacias Plaza, Party City, EG Motor Sports, Farmacias ABC Stores, Mi Gente Supermarkets, Farmacias Reyes, Farmacias Jose, Plaza Loiza, Farmacias Marilu Y Plaza Alta and more.
The Black Cat brand was introduced in the US in the 1940's.Over the past 60 years, Black Cat evolved from the basic firecrackers to a Product Line that contains over 500 items today! Continued focus on Quality and Innovation has made Black Cat an International Brand, with presence in markets all around the world.
# # #