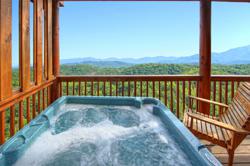 Many visitors to Gatlinburg and Pigeon Forge think that cabin rentals are way more expensive than hotel rooms—they are 100% wrong.
Pigeon Forge, TN (PRWEB) November 30, 2011
The Smoky Mountains National Park, which is within a 2-day drive for over half of the country's population, is the most visited National Park in the country. Due to the combination of natural beauty, family attractions, restaurants, and shopping, the area is quite popular and has plenty of lodging choices. While most families would prefer a luxury cabin rental over a standard hotel room, the perception of higher price often drives visitors to book a hotel room with a familiar brand. However, a recent price comparison study, published by SmokyMountainCabinRental.com, indicates that the direct price of a cabin rental is in line with major brand hotels located in Gatlinburg and Pigeon Forge.
The study compared a luxurious four bedroom cabin to four area hotels and found that the direct price of two hotel rooms exceeded the price of the cabin approximately 50% of the time. The study, which analyzed a stay between 12/9/2011 and 12/12/2011 including all taxes and fees, found that the hotel prices ranged between $801.46 and $940.34 for the two rooms. During the same timeframe, the luxury cabin rental, which is over 2200 square feet and capable of sleeping 12 adults, was priced at $894.64 (including all fees).
In addition to the competitive price of the actual lodging, the price-point study points out that a family on a budget can make simple decisions to save money while staying in a cabin. For example, families that choose to only dine out one meal a day can easily save hundreds of dollars during a three night vacation getaway. Considering most cabin rentals are equipped with gourmet kitchens and provide the occupants amazing mountain views, dining in will seem pleasurable! Also, the cabin will provide entertainment options, such as a private hot tub, pool table, or movie room, which will allow a family to have entertaining family time even on a small budget.
One of the managing members of Smoky Mountain Cabin Rental, LLC, David Angotti, stated:
"Many visitors to Gatlinburg and Pigeon Forge think that cabin rentals are way more expensive than hotel rooms—they are 100% wrong. In fact, when you consider that four couples could easily share a 4 bedroom cabin rental, it is easy to see that hotels are actually the expensive option. Also, as a result of the gourmet kitchen, big screen televisions, pool table, private hot tub, and other amenities, guests spend more time enjoying the cabin and less money on other entertainment options."
When renting a cabin, vacationers should look for properties that have positive reviews on sites such as TripAdvisor or FlipKey. To locate the perfect cabin, view available cabins on sites such as: Smoky Mountain Cabin Rental, iTrip, HomeAway, FlipKey, or VRBO. After narrowing the list to several cabins, vacationers should compare the price, area, view, and amenities to determine the correct cabin for the group.
###