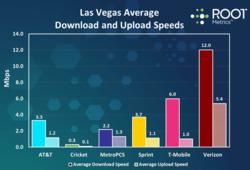 Bellevue, WA (PRWEB) November 30, 2011
RootMetrics™, the first independent service to measure mobile experience from a consumer's point of view, announced today the results of the Las Vegas RootScore™ Report and corresponding RootScore Awards. This comprehensive report analyzes more than 41,000 real-world data, call and text tests and ranks the four national carriers (AT&T, Sprint, T-Mobile, and Verizon) as well as regional carriers MetroPCS and Cricket. Due to the strong results in both data and call categories, Verizon received the highest combined score of 92.4 out of a possible 100. T-Mobile (64), AT&T (64), Sprint (62.6) and MetroPCS (57.8) had a statistical tie for second place and Cricket (38.6) ranked last.
"In Las Vegas, it was very interesting to add regional carriers into the mix. With all of our testing, we're looking for the answers to questions that consumers are asking every day – which carrier has the fastest network? Who has the fewest dropped calls? Which one will send or receive texts the quickest?" commented Bill Moore, CEO of RootMetrics. "These RootScore Reports, combined with our detailed coverage maps, allow people to get a true idea of how the most popular carriers are performing and then make better decisions about the right carrier for their individual needs."
The Fastest and Most Reliable Network in Las Vegas
To evaluate the Las Vegas market (defined as the Las Vegas Urbanized area defined by the U.S. Census Bureau), RootMetrics performed thousands of call, data and text tests during a seven day period, covering all hours of the day and night, from November 3 – November 9, 2011. The tests centered on activities that consumers perform most often: making phone calls, uploading and downloading files from the Internet, and sending and receiving texts.
•Data Performance: Verizon's LTE network delivered the fastest average and maximum speeds for both downloading and uploading data. Coupled with its strong network reliability, Verizon was the undisputed leader in the data category. Cricket, on the other hand, offered especially slow speeds, taking last place in both average and maximum download and upload speeds. In fact, Cricket's average download and upload speeds were the slowest RootMetrics has measured for any carrier in this series of reports to date.
RootMetrics recorded average download speeds for Verizon LTE network above 5 Mbps in 89.9 percent of the tests performed. In contrast, Cricket recorded average download speeds below 1.5 Mbps in a remarkably high 99.8 percent of the tests.
According to test results, T-Mobile was easily the second fastest carrier for average download speeds.
•Call Performance: All six of the carriers tested delivered statistically equal performances in the Las Vegas market. Both blocked call and dropped call rates were low for all carriers. Interestingly, AT&T did not record any blocked calls and Verizon recorded the lowest dropped call rate.
•Text Performance: RootMetrics performed a series of tests to determine how long it took to send or receive a text message (SMS) from each of the carriers. AT&T has performed strongly in the text category in recent markets and continued this trend in Las Vegas, taking first place in the category.
T-Mobile recorded the highest percentage of texts delivered within 10 seconds. T-Mobile was also the fastest carrier for delivering a text to a phone within a carrier's own network. Cricket took last place in the texting category.
•Overall: RootMetrics has developed an algorithm that incorporates the results for Call, Data and Text Performance measurements into a combined score. In Las Vegas, due to the strong results on Verizon's LTE network, it is the recipient of the RootScore Award – Combined for Las Vegas. The final overall results are:
1 Verizon (92.4)
2 T-Mobile (64.0)
2 AT&T (64.0)
2 Sprint (62.6)
2 MetroPCS (57.8)
6 Cricket (38.6)
The Las Vegas RootScore Report is the latest in an ongoing series of performance measurement reports and corresponding RootScore Awards from RootMetrics. The company has published more than 40 reports* to date. People can compare the results of the Las Vegas tests with other metropolitan areas, and review other RootScore Reports at http://www.rootmetrics.com/reports/.
The company will continue to publish additional reports on U.S. wireless markets to help consumers make better decisions about the right carrier for their individual needs.
Consumers who are interested to see how their network coverage measures up can download the free RootMetrics Cell Phone Coverage Map App for iPhone or Android devices.
Mobile performance varies depending on where people live, work or otherwise spend time.
The results of this report combined with the geographical coverage maps at http://www.rootmetrics.com and via the Cell Phone Coverage Map Apps allow people to make better decisions about the right carrier for their individual needs.
About RootMetrics™
Bellevue, Washington-based RootMetrics is building a movement to create a more open mobile market that democratizes mobile performance data. Deploying a sophisticated smartphone application, RootMetrics partners with consumers to collect network signal strength and data throughput speeds, aggregating collected metrics into easy-to-understand maps that rate each carrier's performance. This comparative data provides transparency into comparative carrier performance down to the most granular levels. For more information, please visit http://www.rootmetrics.com.
*RootScore reports are available for Atlanta, Austin, Baltimore, Boston, Buffalo, Chicago, Cincinnati, Cleveland, Columbus, Dallas, Denver, Hartford, Houston, Indianapolis, Kansas City, Los Angeles, Louisville, Miami, Milwaukee, Minneapolis, Nashville, New York, Oklahoma City, Orlando, Philadelphia, Phoenix, Pittsburgh, Portland, Providence, Richmond, Riverside-San Bernardino, Sacramento, Salt Lake City, San Diego, San Francisco, San Jose, Seattle, St. Louis, Tucson, Virginia Beach, Washington, D.C.
# # #