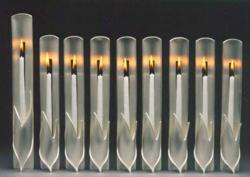 Gifty is always a delight because it showcases actual work being done in classes at The Crucible and the work of Crucible instructors.
San Francisco, CA (PRWEB) November 30, 2011
This year's Holiday Gifty Art Sale and Open House at The Crucible promises to be the most exciting shopping experience this season. While the Open House will afford the opportunity to see industrial arts in molten action—with live demonstrations in glass blowing, jewelry making and metal fabrication—the Holiday Gifty Art Sale will feature handmade crafts for sale from over 70 local Bay Area artists.
Guests of this special holiday event are eligible for discounts on Crucible class tuition and will be entertained by mini fire opera performances, live fire dancing by Crucible students and Rockakamile, accordion music by Duckmando, and a visit from Santa, who will arrive in a most spectacular fashion at 1 pm. This year's Holiday Gifty Art Sale and Open House will take place in Crucible's 56,000 square-foot West Oakland facility on Saturday, December 10 from noon until 6 pm and Sunday, December 11 from noon until 4 pm.
"We do many events all year long ranging in size, but Gifty is my favorite," said Jennifer Harrity, Marketing Coordinator and Holiday Gifty Fire Elf. "Everyone is bundled up in festive holiday attire, the studio is all decorated up with lights and folks seem to be walking around humming their favorite holiday tune. The entire energy of the event and The Crucible studio is warm and festive. It also combines my two favorite things: fire and shopping."
Gifty shoppers can purchase locally handmade treasures made from glass, metal, wood, ceramics, textiles and other media from dozens of vendors, including many returning favorites, like SuperSugarRayRay, RocknSocks, Squishy Sushi, and By Nieves. New Gifty vendors include J Fein Designs, The Red Dragon Inn, Illuminated Jewelry by Mark Garbarini, and FaceFactory.
The Crucible's staff and faculty members also plan to participate, including jewelry instructor Aimee Golant's contemporary metal art Judaica, Crucible instructor Rob Nehring's (Rusty Noodle Studios) sculptures that bring out the personality of discarded objects, instructor David Castella's (D.A.C. Metals) intricate jewelry, and glass flameworking instructor Ralph McCasey's (Nightside Studios) glass art.
"Gifty is always a delight because it showcases actual work being done in classes at The Crucible and the work of Crucible instructors," said Judy Stone, Enameling Department Head and instructor. "We love it when our students enter the marketplace with their work, and when community artists and craftspeople consider the event a unique and positive marketing experience. For me, I rarely get a break because the small enameling studio inside the jewelry room is buzzing with non-stop demonstrations by me and Arlene Mornick, the Art Clay instructor."
"The Crucible classroom doors will be open to the public, allowing free demonstrations in glass blowing, blacksmithing and welding," said Andrea Lundquist, Crucible Event Manager. "Gifty presents a perfect opportunity to see what The Crucible is all about and pick up last-minute holiday gifts while helping support local arts and artists."
MACHINE cast members will warm guests up for the fire opera's upcoming premiere with mini-performances throughout the day. MACHINE: A World Premiere Fire Opera promises to be The Crucible's boldest production yet, and tickets to performances make a unique and unforgettable holiday gift. Tickets are available now or can be purchased at the Holiday Gifty.
At one o'clock, Santa will arrive in style when he makes his grand Holiday Gifty entrance aboard the Nautilus Submarine, a spectacular Burning Man art car created by the Five Ton Crane Arts Group. Guests are encouraged to bring their cameras to get photographs of themselves or little ones with Santa.
Holiday Gifty guests are eligible for discounts on Crucible classes. New students who sign up for a winter class during the Open House will receive 20% off their class tuition, and all new and existing members will receive 25% off tuition. Memberships and class sign-ups will be available at the event.
For more information, call (510) 250-3687 or go to http://www.thecrucible.org.
About The Crucible
The Crucible is an educational facility that offers Bay Area art classes in the fine and industrial arts to people at all skill levels and original Bay Area team building events. What started in 1999 in an empty 6,000 square-foot warehouse in Berkeley has now grown to a 56,000 square-foot building in the heart of West Oakland.
The Crucible offers instruction in industrial and fine art for every level from beginning and intermediate to advanced levels in formats ranging from three-hour tasters to ten-week programs. Prices vary by course and duration. Class fees include tuition, studio fees, materials, tool access and safety training. There are no shopping lists for supplies or hidden costs.
###