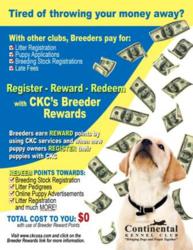 ...we are expanding our Rewards Program to include more services, more products, and to include all CKC members.
Livingston, LA (PRWEB) November 30, 2011
Continental Kennel Club (CKC) has again set a new standard for making canine registration services affordable to all kennels, breeders, and dog enthusiasts who use canine registration services and products. "The struggling economy has created challenges for businesses and individuals," said CKC President Mike Roy. "In order to help our members and our industry weather these difficult times, we are expanding our Rewards Program to include more services, more products, and to include all CKC members," said Roy.
CKC initially piloted the Breeder Rewards Program as a means to reward member loyalty by assigning redeemable points to breeders simply for using the club's registration products and services, and as a way to reward breeders when their puppy purchasers used CKC registration services and products after the sale also. Through the newly expanded CKC Rewards Program, Continental Kennel Club will offer all CKC members who register and sell litters of puppies the opportunity to receive important services, products and even merchandise at no charge simply by redeeming CKC Reward Points earned in the CKC Rewards Program.
"For over twenty years, CKC has offered breeders the most affordable products and services in the industry" said Roy, who also added "CKC's basic registration rate of $5.00 for breeders, $15.00 for individuals, and no fees for litter registration are still the best values in the industry." Roy also noted that CKC continues to increase the benefits available to CKC members.
Register -- Reward -- Redeem
The CKC Rewards Program is a simple concept. Breeders and members will automatically receive CKC Reward Points when they utilize most of the basic registration services with CKC, including each time they register a litter, register new breeding stock, order litter pedigrees, or use other CKC basic services. Those points can be redeemed toward CKC products and services, such as litter pedigrees, breeder quick reference sheets, and breeding stock registration.
This innovative program does not end at the point of sale. The program goes far beyond a "dollar spent - points earned" concept according to Roy. The CKC Rewards program also rewards CKC members and breeders for increasing their puppy registration return rates (number of puppies sold per litter that become registered with the club). This means that CKC Reward Points are earned every time a new puppy owner registers a puppy that has been purchased from a CKC breeder or member. Additionally, breeders and members with higher return rates are eligible to receive bonus points and will be able to redeem their points toward exclusive high-value breeder services and products such as books and products, full page advertisements on the CKC website, and coupons for shots and wormer.
Continental Kennel Club rules require that breeders distribute current CKC puppy applications with every puppy they sell or place. According to Roy, "Regardless of which registry a breeder uses, selling dogs or puppies without registration papers benefits no one." Without papers the new owner has no way of connecting with the registry for ancestry history of the dog or the many valuable services and products registries have to offer. In addition, the breeder may lose track of a potential future client and the offspring of dogs he or she produces.
Withholding registration papers should not be used by breeders as a method to stop clients from registering their puppies. Canine registries across the board are losing valuable registration dollars due to the weak economy, and the burden is steadily growing because animal rights legislation that restricts the rights of kennel owners continues to increase. The best way that breeders can help the registry of their choice, the puppies they sell, and their new owners is by ensuring that their puppies are registered and the new owner is connected to the registry.
For more information on the Continental Kennel Club Rewards Program and other CKC information call 1-800-952-3376, or visit: http://www.ckcusa.com.
###