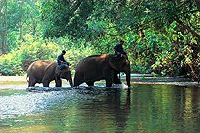 Vancouver, BC (PRWEB) November 30, 2011
As the situation in Bangkok involving the recent flooding has stabilized, Chinapac International says it's now Time for Thailand!
The Vancouver based Asia tour operator announced the newest addition to their collection of 2012 Familiarization trips and this one scopes the towns and jungles of Thailand's northern region. Scheduled to depart this February, this fam trip is the perfect reason to trade in your winter parkas for a seat to the tropical paradise of Thailand.
9 Day Time for Thailand Fam visits the cities of Bangkok, Ayuthaya, Uthai Thani, Phitsanuloke, Sukhothai, Chiang Mai and Chiang Rai, highlighting the country's glittering Buddhist temples, relaxing rivers, lush jungles and simple village life.
The Thailand tour will commence in the city of Bangkok, hitting up the capital's famous sites and landmarks such as Grand Palace and Wat Po. Participants will also take part in an exotic market excursion to the Damnoen Saduak Floating Market where boats filled with succulent tropical produce line the canal sides.
Ruins, temples and villages comprise the next agenda as guests travel up north to Phitsanuloke and towns on the way. One of which is Uthai Thani, a small, desolate town on the banks of Sakae Krang River that serves home to Wat Chantaram, an exquisite temple with crystal hall and golden grand shrine. Spread along the banks of the Nan River is the town of Phitsanuloke where guests will stay overnight before taveling to the Sukhothai Provincial Park UNESCO World Heritage Site.
Another prominent town included in the program is Chiang Mai, dubbed as "rose of the north" is where history, modernity and nature all coexist. Chiang Mai offers its visitors a variety of activities from mountain trekking, temple hopping, to engaging in tribal villages. Guests will neither miss the city's Night Bazaar for the legendary Thai night experience in this Thailand tour.
Finally, Chiang Rai. This quieter northern town is a place participants can gather some of the most memorable interaction with nature. Tour the orchid farm for the region's rich flora plus an elephant camp showing the way elephants have worked in the jungles for centuries. A trip to the northernmost town of Mae Sai with bustling markets is where guests can pick up souvenir items like silk, gemstones, pewter wares and other local handicrafts. Wrap up with an excursion to the Golden Triangle and delight in the view over Myanmar, Laos, Thailand and the mighty Mekong.
9 Day Time for Thailand Fam is set to depart on February 26, 2012 with land rate of $799 for agents and $899 for companions. Air may also be arranged with Chinapac starting at $630 plus tax. Seats are limited to 20 persons. For more information, call 1-800-661-8182 or http://www.chinapac.com
Chinapac International specializes in travel service to China and the Orient and is proud to celebrate 26 successful years in the travel industry as the premier travel package tour operator to the People's Republic of China and South East Asia.
###