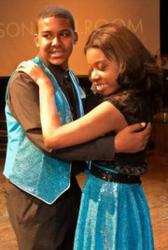 This month, The Fund for the City of New York accepted the "fun, fitness & fancy footwork" of Sid Grant's Ballroom Basix™ into its prestigious Incubator/Partner Project Program.
New York, NY (PRWEB) November 30, 2011
This month, The Fund for the City of New York accepted the "fun, fitness & fancy footwork" of Sid Grant's Ballroom Basix™ into its prestigious Incubator/Partner Project Program. The Fund created the Incubator/Partner Project Program in the early 90s to provide support to start-up organizations so they can concentrate their energy and resources on programming and fundraising.
The Fund's Incubator Program provides financial management services, including monthly expense and revenue reports and financial reports for funders and audits. It also provides insurance coverage and a comprehensive array of employee benefits. Being in the incubator program gives organizations access to a chief financial officer, comptroller, auditor, financial manager, payroll clerk, accounts payable department, human resources experts, lawyers and nonprofit coaches.
Here's what The Fund's president, Mary McCormick, had to say about Ballroom Basix™:
Ballroom Basix™ is an example, to us all, of how to make a difference. Artistic Director Sidney Grant and his dedicated staff have stepped forward to share their talent and craft and in so doing they are changing the lives of hundreds of middle-school students in Harlem, the Bronx and beyond!
Last Spring, the program served over 400 students in Harlem, the Bronx and Queens -- and Grant hopes to triple if not quadruple that number this school year! "Our concept, first and foremost, is that partner dancing is a social skill, not a competitive art form. Every child, regardless of shape/size, ability or popularity, both needs avd deserves the chance to experience connecting with his/her classmates in a healthy and respectful way. In this day and age of rampant bullying, Ballroom Basix™ is the perfect antidote."
Dr. Peter McFarlane, a prize-winning principal from PS 180, the program's pilot school, offered this insightful feedback after four years of :
It's really about the evolution of students who start out shy and blossom into beautiful flowers. I saw a level of maturity that was unmatched, unrivaled. I saw a level of concentration [that] translates to academics. Over 80% of the class that Mr. Sid taught for 6th, 7th and 8th grade passed the science and math regents, and that has a lot to do with being focused and staying focused, which their program provides. Most of all, the kids said we want [Ballroom Basix] back. When they start saying 'we want something back' you know it's working."
Working alongside The Fund's Sara Kwak, their Program Officer, Ballroom Basix™ is well-positioned for exponential growth. "Ballroom Basix is, no pun intended, in step with other worthy causes that are among The Fund's exclusive dossier of Partner Projects." These include designer Dana Buchman's charity The Promise Project, and WIPSEN, Leymah Gbowee's award-winning peace building initiative in Africa. Ms. Gbowee, the author of Mighty Be Our Powers, received the 2011 Nobel Peace Prize for for her non-violent struggle for the safety of women and for women's rights to full participation in peace-building work". She is also the narrator and central character in the 2008 documentary film Pray the Devil Back to Hell, which took Best Documentary Feature in the 2008 Tribeca Film Festival in New York.
Having appeared in another award-winning documentary film, Mad Hot Ballroom, Grant was thrilled to meet someone with such comparable project passion. "Meeting Leymah was an inspiration, as she's demonstrated how steady faith in one's mission can really make for lasting change -- and that's exactly what we are doing among inner city kids." And their mission is a powerful one:
The transformation of students' educational, social and fitness skills through the fun-filled Ballroom and Latin dance experience. By consistently reinforcing the etiquette and respect inherent in partner dancing, the program instills self–worth, physical well–being and cooperation among the children it serves, while simultaneously instructing them in the diverse origins of the dances they learn: historically, geographically and multi–culturally.
Grant, who's also a published poet, graduated summa cum laude from Rutgers College, where he was valedictorian in the School of Journalism and Communication, minoring in Spanish -- all of which helped in creating the English and Spanish content of his unique syllabus. "Spanish is the second most used language in the United States, with more than 50 million speakers. In fact, one piece of U.S. trivia few people know is that Spanish was the first language spoke by permanent European settlers in St. Augustine, Florida. Consequently, I want our program to reflect contemporary U.S. culture. I am very proud to have studied Spanish both here and abroad, and speak it among my Harlem kids.
Volunteer project manager and video director Waldo Tejada summed it up best, "Mr. Grant's concept captures the best of the multicultural American spirit." To support this worthy cause, visit their website: http://www.ballroombasix.org
# # #