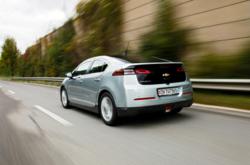 Lumberton, NJ (PRWEB) November 29, 2011
At Lucas Chevrolet in Lumberton, NJ the 2012 Chevy Volts are arriving to much fanfare. And with good reason. The Volt is unique among electric vehicles because it has two sources of energy. It has an electric source–a battery–that allows drivers to drive gas free for an EPA–estimated 35 miles, and there's also an onboard gas generator that produces electricity so it can go up to a total of 375 additional miles on a full tank of gas. So if a Volt owner wants to drive using only electricity, they can. Charging is easy. Just plug it into any standard outlet at home or anywhere using its standard 120-volt charging cord for about $1.50 a day. If a driver wants to drive using electricity and gas, they can do that too. Automotive consumers wishing to take a new Chevrolet Volt in Lumberton for a test drive or any new Chevrolet in Lumberton or used Chevrolet in Lumberton are able to do so at the Lucas Chevrolet Dealership.
Lucas Chevrolet is part of the Lucas Auto Group. Besides being a Chevy dealership, the auto group also has Lucas Ford and Lucas Chrysler, Jeep, Dodge dealerships in the family, making the purchase of a pre-owned certified used car in Burlington or a used truck in Burlington readily available.
The Volt lets buyers choose between a standard 120V charging kit that allows them to plug into a conventional electrical outlet and fully charge the battery in about 10 hours, depending on climate, or opt for an available 240V charging station that reduces charging time to approximately four hours. Professional installation is required. For car owners that use Smart Phones, there are two apps available to double the connectivity. If a driver is curious about their charging status, they can download the OnStar RemoteLink mobile app and can see the battery level and charge mode–120V or 240V–right on their smart phone. They'll be able to remotely verify that the car is plugged in and even schedule a future charging time. Text or email alerts tell drivers when the battery is fully charged or if there's a charge interruption. There's even an app available that allows them to schedule a service appointment online or create a photo reminder to help them remember where they parked their car. All that's required is downloading the myChevrolet app, which works with OnStar RemoteLink, to give consumers all the power they want, right in the palm of their hands.
The Volt also comes available with Chevrolet MyLink, SiriusXM satellite radio with Bose energy efficient speakers, SiriusSXM NavTraffic, and turn-by-turn navigational features. A seven-inch diagonal touch screen relays real-time information on energy usage and power flow, and even displays efficiency feedback based on driving style. Not only do drivers know how much charge is left in the battery, they're also able to program a charging schedule based on electricity rate plans. If rates are lower at certain times of the day, it's possible to program the Volt to take advantage of every kilowatt. And continuing along the lines of energy efficiency, Goodyear Assurance Fuel Max tires are along for the ride, making this a fuel-efficient car to be reckoned with.
First in Results SEO Marketing
###