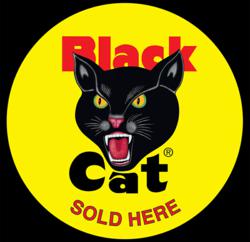 (PRWEB) November 30, 2011
Black Cat Full Line Dealers offer a wide selection of Black Cat Brand Fireworks that include large selections of: Firecrackers, Rockets, Multi-Shot Aerials, Re-loadable Kits, Roman Candles, Ground Spinners, Fountains, Sparklers, Smokes, Wheels, Parachutes and a wide range of Assortments.
The Black Cat brand was introduced in the US in the 1940's. Over the past 60 years, Black Cat evolved from the basic firecrackers to a Product Line that contains over 500 items today! Continued focus on Quality and Innovation has made Black Cat an International Brand, with presence in markets all around the world.
Go to the Black Cat Fireworks website and search the Dealer locator to find the locations closest to you.
###