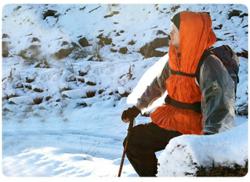 The Blizzard Survival Blanket™ can be used by outdoor enthusiasts hiking in extreme cold as well as being stored in vehicles in case of an emergency.
Houston, TX (PRWEB) November 30, 2011
This fall, the outdoor lifestyle chain store, REI, began selling the Blizzard Survival Blanket™ and the Blizzard Survival Jacket™ online and in stores. This unique, top of the line insulation blanket, was once exclusive to emergency and military use only and is now being made available to the public through PerSys Medical.
The Blizzard Survival Blanket™ and the Blizzard Survival Jacket™ can be used by outdoor enthusiasts hiking in extreme cold as well as being stored in vehicles in case of an emergency. The blanket is uniquely warm due to the use of an innovative technology called Reflexcell™, a three-layer material that traps air and insulates the user. Reflexcell™, the base material for Blizzard's unique products, has major advantages over existing materials and is revolutionizing emergency thermal protection. Reflexcell™ took fifteen years to develop and is completely different from other reflective blanket materials.
Reflexcell™ has a cellular construction that traps warm air, an interwoven elastic that draws the material to the body (reducing cold spaces and heat loss by convection), and silver surfaces to block heat loss by radiation. It is also completely waterproof and windproof. It's honeycomb construction makes it possible to be compacted into a small bag.
Fifteen years ago, Derek Ryden, the founder and managing director of Blizzard Survival UK, conceived the idea of Reflexcell™. Ryden realized that outdoor enthusiasts and professionals needed something more effective than plastic bivvy bags and lighter than conventional sleeping bags. Now, following exhaustive in-house testing and trials performed by the US Army Institute of Surgical Research, the Blizzard Survival Blanket™ has been endorsed by the US Army Medical Center Directorate of Combat and Doctrine Development and is one blanket used to train Army medics in the treatment of hypothermia. In 2009, Blizzard received the Queen's Award for Enterprise: Innovation, solidifying its place as the number one product for thermal protection.
In its infancy, Blizzard Survival was a small-scale manufacturer of outdoor thermal survival products. It has now grown to be the market leader in the field of thermal survival. Used in military and emergency services worldwide, Blizzard is also a standard for the outdoor market. Blizzard products represent a change in the way both civilian and military trauma cases should be treated and Blizzard's unique Reflexcell™ material is incorporated into all Blizzard Survival products in military, medical, emergency preparedness and outdoor applications globally.
The Company is based in Bethesda, North Wales, on the edge of the Snowdonia National Park. This mountainous region offers truly challenging weather conditions and an effective proving ground. Research and development and all manufacturing are centered at this location.
PerSys Medical specializes in bringing life-saving innovations to market. We seek the highest quality of innovative technologies and products to meet medical challenges. PerSys Medical markets and distributes a variety of specialized medical and emergency medical products to military, law enforcement, homeland security, EMS, and wilderness medicine agencies as well as worldwide government agencies. The company has been active in the medical field since the mid 90's, responding to a growing demand for life-saving products. Aided by our close relationship with medics, training facilities and decision makers, we were able to successfully market several life-saving innovations, which have become the standard in the US military and other leading organizations.
###