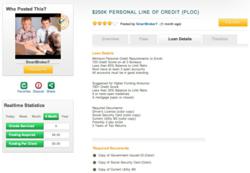 Receiving bank funding has become harder than ever, especially for minorities. Having an experienced consultant navigate the system for you is priceless
Los Angeles, CA (PRWEB) November 30, 2011
The USLACC, with over 10,000 members nationwide, is dedicated to promoting opportunities for Latino American owned businesses. On Monday, USLACC President, Manolo Cevallos announced a partnership with the recently launched, specialized lending web platform, Verifico.com. Verifco is the first online marketplace where consumers, specialized loan consultants and referrers can connect and safely conduct transactions. USLACC members will be able to use the Verifico platform to connect with specialized loan consultants and enroll in unique loan programs with extra assistance such as a bilingual information page. Verifico founder, Paris Benson, said "receiving bank funding has become harder than ever, especially for minorities. Having an experienced consultant navigate the system for you is priceless". Verifico offers that connection to those specialized consultants who can efficiently navigate the system.
Most importantly, the platform emphasizes safety to protect consumers from scams, which often occur in this industry. Each consultant must pass Verifico's 6 Point Verification before they are allowed to post their programs on the site. Verifico's seal of approval along with other consumer ratings and comments educate the user on which consultant is the best fit for his or her needs.
About Verifico
Verifico Corporation hosts Verifico.com, the first secure online marketplace where registered users are able to search for specialty loan programs provided by verified loan consultants and complete transactions from the platform using Verifico's innovative resources.
Verifico.com's purpose is to ensure that consumers are able find the numerous valid companies offering alternative loan programs while minimizing the risk of fraud. Finding secure resources helps consumers choose from the highest quality consultants and companies. Verifico Corporation has offices in both Los Angeles and Washington D.C.
###