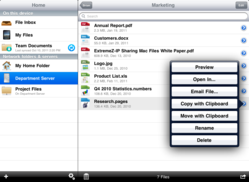 Making mobilEcho available on salesforce.com's AppExchange Mobile is a great way for more people to experience the security and peace of mind it provides both mobile users and IT staff in the enterprise.
Cloudforce, New York, NY (PRWEB) November 30, 2011
GroupLogic®, an industry leading provider of software products that unlock the power of new enterprise platforms, today announced it has launched its Mobile File Management (MFM) app on salesforce.com's AppExchange Mobile, extending the marketplace built for the social enterprise. mobilEcho is among the first apps to leverage AppExchange Mobile, tapping into the power of the proven Force.com platform, salesforce.com's social enterprise platform for employee social apps. mobilEcho is currently available for test drive on the AppExchange Mobile.
Whether brought to work as part of the bring your own device (BYOD) trend, or provided by the company itself, more and more people are using iPads and iPhones in the enterprise. IT organizations are moving to meet the demand and offer secure access to enterprise file servers without a native, user-accessible file system on those devices.
mobilEcho addresses this growing trend by enabling IT organizations to rapidly install and provide simple, secure and managed mobile file management for corporate iPad and iPhone users. As a result, employees are able to securely access the corporate file server from anywhere in the world, allowing them to retrieve up-to-date files and information that is crucial to their jobs.
"Making mobilEcho available on salesforce.com's AppExchange Mobile is a great way for more people to experience the security and peace of mind it provides both mobile users and IT staff in the enterprise," said Todd While, vice president, Mobility Solutions at GroupLogic. "We're delighted to be one of the first companies with an offering on AppExchange Mobile and are looking forward to working with the talented salesforce.com team."
"Customers continue to look to our partners as they transform themselves into social enterprises, and partners like GroupLogic are helping them with that shift," said Ron Huddleston, senior vice president, ISV Alliances, salesforce.com. "Apps like these exemplify the extraordinary reach of the AppExchange marketplace and continue to push the social, mobile, open and trusted capabilities customers expect from the salesforce.com ecosystem."
Cloudforce New York Welcomes Attendees to the Social Enterprise
The number of social networking users has surpassed e-mail users. And people access the Internet more from mobile devices than from desktops. Salesforce.com is helping companies meet the challenge of this social revolution with the social enterprise. Today, companies must change the way they collaborate, communicate and share information with customers and employees to stay competitive. By leveraging salesforce.com's social, mobile and open cloud technologies, companies can transform themselves into social enterprises by developing social profiles of customers, creating employee social networks and building customer and product social networks. Cloudforce New York attendees will be able to learn firsthand how to join this transformation.
Additional Resources

mobilEcho can be purchased via the GroupLogic web store (http://www.grouplogic.com/store/). Interested IT organizations can also take advantage of GroupLogic's free trial of mobilEcho by visiting: http://www.grouplogic.com/enterprise-file-sharing/ipad-file-system/free-trial.html. GroupLogic offers two pricing options for enterprises, including subscription and perpetual licensing.
About GroupLogic
GroupLogic® helps enterprise and education IT organizations simply and securely integrate diverse computing platforms into enterprise environments, connecting employees to enterprise files, content and assets to facilitate a more productive and efficient work environment. With more than two decades of experience, GroupLogic leads the marketplace in helping IT organizations effectively and easily manage the integration of Apple products into the enterprise ecosystem. Whether IT organizations are looking to integrate existing Apple assets, purchase additional Apple hardware like Macs and iPads, or want to take advantage of the hardware costs savings that accompany the adoption of IT consumerization, GroupLogic enables IT organizations to easily and securely manage the rapid integration of diverse platforms while ensuring resources are optimized. GroupLogic enables the enterprise to focus on what is really important – competitive differentiation, improved employee productivity, mitigated risk and reduced costs. GroupLogic's proven products—ExtremeZ-IP, mobilEcho, ArchiveConnect, and MassTransit—are in use by some of the world's most innovative companies, including Christie's, International Greetings and Omnicom Group.
GroupLogic®, ExtremeZ-IP®, mobilEcho™, MassTransit®, Zidget®, ShadowConnect™ and ArchiveConnect™ are all registered or unregistered trademarks of Group Logic, Inc. All other trademarks referenced herein are the property of their respective owners. © 2011 GroupLogic, Inc. All Rights Reserved.
About the Force.com Platform and AppExchange
Force.com is the trusted social enterprise platform for building and running any employee app in the cloud. Force.com powers the Salesforce CRM apps, the more than 250,000 custom apps used by salesforce.com customers such as Japan Post, Kaiser Permanente, KONE, and Sprint Nextel and the more than 1,300 ISV apps built by partners such as BMC, FinancialForce.com and Fujitsu.
Enterprise apps built on the Force.com platform can be easily distributed and marketed through the salesforce.com AppExchange http://www.salesforce.com/appexchange/.
The salesforce.com social enterprise platform delivers the most trusted and comprehensive cloud technologies for social, mobile and open apps. It includes Force.com, the cloud platform for employee apps, Heroku, the cloud platform for customer apps and Database.com, the cloud database to integrate the social enterprise.
Salesforce, Dreamforce, Force.com, Heroku, AppExchange, Database.com and others are trademarks of salesforce.com, inc.
# # #