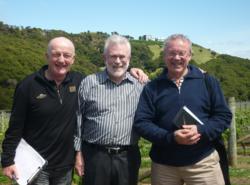 Wines of elegance and finesse, well refined and delicately polished...a true reflection of the place they are from.
Waiheke Island, New Zealand (PRWEB) November 30, 2011
Destiny Bay Vineyards announced today that they were honored to host two prominent British wine writers and broadcasters, Charles Metcalf and Oz Clarke, at the vineyard.
"This was an unexpected visit," said Mike Spratt, co-founder of Destiny Bay Vineyards. "They had heard about Destiny Bay wine and were already in Auckland for another event. So, they called and requested a private visit. Having followed their writing for a very long time, we were delighted to accommodate them."
After a vineyard tour and tasting of the 2007 and 2008 vintages, both Clarke and Metcalfe were generous with their praise. "It was a delightful visit and I very much enjoyed meeting the team and tasting the Destiny Bay wines" commented Oz Clarke. "These are elegant, well-made wines with balanced acidity and tannins. Destiny Bay wines resemble the traditional old world style rather than some of the newer styles being produced today."
Similarly, Charles Metcalfe noted that "I was surprised to find wines of elegance and finesse, well refined and delicately polished which are a true reflection of the place they are from. The Destiny Bay team should be very proud of what they have accomplished here."
"We are delighted that Charles and Oz took time out of their busy schedule to visit Destiny Bay, one of New Zealand's smallest artisan producers" commented Brett Taylor, co-owner of Destiny Bay Wines and Director of Global Distribution. "Our team works very hard to craft these special wines and it is always encouraging when people of Charles' and Oz's standing praise the outcome."
"This has been a year of critical praise for Destiny Bay Vineyards," stated Mark Feldman, owner of Destiny Bay Wine Imports in the U.S. "Top experts, including Anthony Dias Blue, Bob Campbell and Neal Martin on Robert Parker, Jr.'s team, have rated multiple vintages of these wines in the 90's with a recent high rating of 98 points for the '07 Magna Praemia by Mr. Blue. Visits by acknowledged authorities like Clarke and Metcalfe validate the extraordinary time and effort expended by Destiny Bay's remarkable winemaking team. "
About Destiny Bay Vineyards
Destiny Bay is a small, single vineyard, family-owned winery on Waiheke Island, New Zealand that specializes in estate grown and bottled blends of Cabernet Sauvignon, Merlot, Cabernet Franc, Malbec and Petit Verdot. Destiny Bay produces fewer than 2,500 cases per year of their three distinct blends, Magna Praemia, Mystae and Destinae. Destiny Bay is Waiheke Island's first fully certified Sustainable Winery & Vineyard (SWNZ).
About Charles Metcalf
Charles Metcalf is a wine critic and broadcaster in Britain. He presented drinks and occasionally food items for 12 years as one of the Richard-and-Judy team on the ITV programme, 'This Morning', and was the drinks expert for 'Taste Today' on the Taste TV CFW channel. He has also presented many wine and food programmes on the Granada Breeze satellite channel.
About Oz Clarke
Oz Clarke is a wine writer, television presenter and broadcaster. He appears on numerous radio and TV shows, including A Question of Taste and The Wine Programme for BBC Radio 4. Recently he has made three successful BBCTWO TV series with James May: Oz and James's Big Wine Adventure in France and California, and Oz and James Drink to Britain.
Trademarks
Destiny Bay, the Comet, Magna Praemia, Mystae, Destinae and Dolce Suavi are registered trademarks of Destiny Bay Vineyards Ltd. Other names may be trademarks of their respective owners.
###