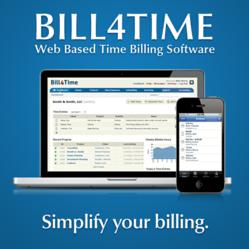 The developers at Bill4Time are constantly updating and adding new features and are always responsive to ideas and enhancements. Bill4Time truly gets better and better each month
Bellevue, Washington (PRWEB) November 30, 2011
Releasing its latest features, Bill4Time's newest updates include additional invoice emailing options, email history, customized client ids, invoice summary flexibility and more. The new features increase user efficiency and add to Bill4Time's goal of improving the way clients run their businesses.
Since Bill4Time is a cloud based software, all feature updates are instant and automatic. Clients will always be working with the latest features as they are released. Bill4Time's web-based system give clients full access to the software across all mobile devices, so they can be productive in more places. Data is stored in the cloud - not on one particular computer - so employees can connect with all of their information and get work done from any Internet connection. Bill4Time gives users seamless access to their data, organizes it and converts it into an invoice in minutes.
"The developers at Bill4Time are constantly updating and adding new features and are always responsive to ideas and enhancements. Bill4Time truly gets better and better each month."

Lauren H. Lieb, Lieb at Law, P.C, New York
New Features:
Additional Invoice Emailing Options
Now Bill4Time clients can email invoices to as many contacts as they like. Bill4Time has added a CC field to the Email Invoice screen. Bill4Time also provides email history. Clients can see the full details of all invoice email sent and invoice drafts.
Contact Management Centralized
Contacts only need to be added in the Bill4Time system once to be accessible
throughout the system
Edit Contractor Rates
Clients can change contractors' billable rate per client, per project and now per company.
Customizable Client IDs
Clients can now choose their own client identification numbers. The numbers will be displayed in the Client Management list and throughout the entire system.
Invoice Summary Flexibility
Split up invoice summaries to apply to just the labor, just the expenses, or both individually.
About Bill4Time
Developed with the guidance of law and consulting firms, Bill4Time is a leading web-based time billing software serving both small and large professional service firms. With offices in New York, NY; and Bellevue, WA, Bill4Time has created simple-to-use and intuitive software at a fraction of the cost of other billing systems. With strong focus on convenience, Bill4Time offers anytime, anywhere online account access, mobile apps and a desktop widget. Bill4Time's goal is to streamline the time tracking and billing aspect of business so professionals can focus more on what they do best.
At Broadway Billing Systems, we pride ourselves on our close relationships with our customers, whose direct feedback helps to shape the direction of enhancements and features. We strive to provide quality software backed by knowledgeable and responsive customer support.
Visit http://www.Bill4Time.com
###