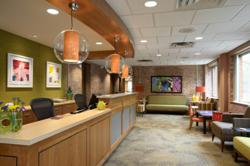 "Judges commented that the design was innovative."
Minneapolis, MN (PRWEB) November 30, 2011
At the 2011 ASID MN Awards gala this year, the designers of LiLu Interiors were honored to receive five awards for design excellence. The competition this year included 84 entries in various categories by a talented interior design community in Minnesota.
A first place award for the design of a residential treatment center for The Emily Program's adolescent eating disorder patients was given to Lisa Peck, ASID, LuAnne Silvia, ASID and Christina Winter, Allied Member ASID. The design of this spaces within an existing, overwhelmingly institutional building with walls of brick and sharp angles throughout and a tight budget required the design team to use basic required materials and furnishings creatively to form a nurturing, supportive environment. The building needed to support diverse activities from sleeping to studying and participating in therapy and preparing and eating food. A concept that used color blocking and large scale pattern to counter the harshness of the brick was employed.
The judges for the competition included an editor of a national shelter magazine, an educator and practicing kitchen designer and a general practitioner in interior design. The judges commented that the design team did a "great job of integrating all the brick" and the design was "innovative."
Four other awards were given to the designers of LiLu Interiors for their work in various areas of residential design.
LiLu Interiors designers Lisa Peck, ASID and Christina Winter, Allied Member ASID were recognized with an honorable mention for the design of a condominium, entitled Modern Masterpiece, for an empty-nester couple who were downsizing but wanted to integrate a lifetime's collection of art and antiques into their new home. The concept for this project was to juxtapose antiques, vintage collections and artwork with a slick, neutral and contemporary envelope to create an emphasis on the collections. Judges felt the design was "consistent and strong" and that the design team "worked well with the collection of antiques." They also loved the splash of color in the environment.
Lisa Peck, ASID, LuAnne Silvia, ASID and Ally Evander, Allied Member ASID were given an honorable mention for a condominium design. Within an architecturally uninteresting condominium the designers of LiLu created an environment for a client embarking on a new life as a single woman. Using several existing pieces of furniture the design team was charged with creating a fresh look while maintaining an aesthetic of acquisition and assemblage. The client requested a space that was comfortable for entertaining small groups, was worldly and had storage for barware and books. For this project, the judges commented "Straddles line between modern and contemporary very well. Flows nicely. Color palette well done. Not forced. Draperies are clever. Soft and serene. Tailored beautiful. Took pains to look collected over time. Not boring, well done with no structural changes."
A residential bathroom design by Lisa Peck, ASID and Emily Anderson, Allied member ASID was also given an honorable mention award. The bathroom, designed for the parents of four children under six, needed to be both a serene retreat and an easily maintained space. Within a new construction home in an existing urban neighborhood dating from the 1920's this bathroom was designed to have all the modern amenities and look updated and traditional at once. Judges noted the "light delicate" feel of the space and simply added "love this bathroom."
LiLu Interiors also received an honorable mention award for the design of a powder room by Lisa Peck, ASID and Christina Winter, Allied Member ASID. The powder room design was unique, elegant and used a monochromatic color scheme. Materials selected created an environment that is a step above and created interest within the restrained palette. Guests using this powder room will know that they are welcome, valued and understand the hospitality of the homes owners. Judges said the designers "achieved elegance" and that the space was "special."
LiLu Interiors is an award-winning interior design firm located in Minneapolis, MN. Lisa Peck, ASID firm principal is the current president of the Minnesota Chapter of The American Society of Interior Designers. The five designers of LiLu Interiors are experts in residential and contract interior design and work collaboratively within LiLu and with allied professionals such as architects, contractors and craftsmen.
# # #