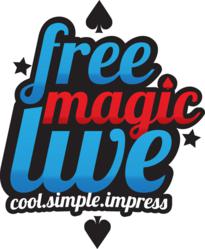 YouTube appears to have made a big mistake
Brisbane, Queensland (PRWEB) November 30, 2011
Jay Jay The Magician from Free Magic Live started his professional YouTube career back in 2009 when he first uploaded a "how to do a card trick" video. He quickly became the mentor of hundreds of thousands of kids. With over 200 videos uploaded and over 14 million views from all over the world, his youtube channel was the number one in the entertainment-magic niche in Australia and within the top 3 in the world.
His success has gone from strength to strength, now boosting over 50,000 fans worldwide and and his YouTube channel was estimated to pull in more than 75,000 views per month. Jay Jay has even been featured on other Famous YouTubers partner programs doing magic tricks and interviewing them.
It came as a huge shock as to his community of loyal followers that YouTube suspended his account (youtube.com/freemagiclive) for no apparent reason and with no explanation. Users were shown the following message when trying to view his video content: "This video has been removed as a violation of YouTube's policy against spam, scams and commercially deceptive content."
Jay Jay writes on his blog at Free Magic Live "after 3 years of creating exciting and entertaining content, why wasn't I given any messages, comments or even an email about my account telling me something is wrong and/or asking me to make a change."
Unfortunately Jay is not alone, other big YouTubers with another well known blogger David Jenyns, from davidjenyns.com, suffering a similar fate on the same day having his account terminated. "I'm stunned having built a great reputation within the YouTube community," Dave comments in an open letter to YouTube. He states "YouTube appears to have made a big mistake overlooking their "3 strikes and you're out" as stated in their community guidelines… I really hope someone from YouTube is taking note."
Even another big YouTuber, Scott Colby who is in the fitness niche got his account banned and also posted an open letter to YouTube. Scott did get his account back and 'youtube admitted it was a mistake'.
"With the massive volume of videos on our site, sometimes we make the wrong call," a spokesperson for the online video giant's owner Google said today. "When it's brought to our attention that a video or account has been mistakenly removed or suspended, we act quickly to reinstate it." Source:http://delimiter.com.au/2011/06/12/youtube-kills-problogger-account/
Jay Jay's account still remains inactive. Over a thousand followers have flocked to his website posting comments of support but still not word from Google. Only time will tell if Google's YouTube really listens.
To read more about this story click here and show your support.
###