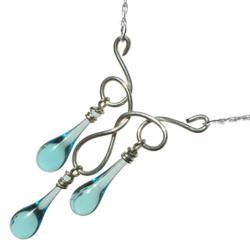 "I love that something completely sustainable can be this beautiful," says FaeriesDance.com's owner, Adrienne Catone.
Harbor City, CA (PRWEB) November 30, 2011
FaeriesDance.com is celebrating the addition of Sundrop Jewelry to accessorize their line of organic clothing. Each piece of Sundrop Jewelry is handmade in a Minneapolis backyard using a Fresnel lens, a very large magnifying glass that can focus sunlight to create a 2000 degree hot spot. The heat of the lens is combined with gravity to create beautiful glass droplets out of recycled bottles. Recycled sterling silver wire is wrapped around each droplet to form a loop for a necklace or ear wires. This creative technique was originally discovered by a 14 year old and then turned into a simple and stylish line of jewelry along with a small, sustainable business.
Leave a comment on FaeriesDance.com's blog, The Eco-Fashion Philosopher to win a matching earring and necklace set. Comments are due by Thursday, December 15th and the jewelry will ship in time for the holidays.
About FaeriesDance.com
FaeriesDance.com is an eco-friendly e-tailer offering sustainable apparel and specializing in hard-to-find items such as organic cotton lingerie and intimates. The company is named after the mythological woodland creatures that live in the heart of the forest, honor all things in nature, and who celebrate life with joyous abandon. In addition to providing beautiful organic clothing and eco-friendly accessories, FaeriesDance.com is committed to providing a complete environmentally-conscious shopping experience for its customers. Their clothing is made from sustainable fabrics and low-impact dyes. The company sources products from both U.S. and overseas manufacturers who ensure that all workers are treated fairly and are safe from sweatshop conditions. FaeriesDance.com has even gone to great lengths to provide consumers with environmentally sound gift wrapping options. They strive to help everyone "Go Green Right Down to Their Skivvies."
# # #