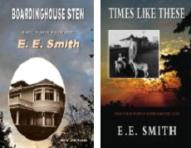 Times like these are about as unpredictable as boardinghouse stew.
San Francisco, CA (PRWEB) November 30, 2011
"Times like these are about as unpredictable as boardinghouse stew," declares one of the characters in E. E. Smith's charming twin-novels of growing up in America during World War II. Like the dish itself, you're never sure what to expect from a story about an 11-year old girl working for the summer as a maid and cook in a down-at-the-heels guest house. What Ms. Smith delivers, in both Boardinghouse Stew and Times Like These, its slightly darker sequel, is a delicious portrait of a fast-fading era. The two books together offer a bittersweet look into a simpler time, remembered fondly, though less innocently, from the perspective of six decades later.
It's 1943. The war has disrupted everyone's life. You can't find domestic workers anymore now that Japanese Americans are being "relocated" inland from West Coast cities like Sacramento. That's good luck for little Evelyn Eileen Smith whose true-life tale of early self-reliance serves as the foundation for these memoirs. Before you can say "child labor laws," she is earning forty-five cents an hour cooking and cleaning for the motley residents of a seedy "guest house," one of the many that sprouted along oak-lined streets during the Depression and its aftermath.
Smith, a playwright and blogger for Psychology Today, does a lovely job of transporting the reader to the sepia-toned realities of yesteryear. The sacrifices, big and small, that people made dutifully for the war, nicely evoke the patriotism of the era. It was a time of pulling together and unity. Unless your folks were from Japan. Or, in E. E. Smith's case, you were one-half German, and worrying that German Americans would be rounded up next. For as pleasant a sojourn to a simpler time as these stories may be—both novels are delightful reads—a wistful sense of the disruption and dislocation occasioned by the Depression and the war years that followed is woven through both. If Boardinghouse Stew presents visions of radio days and roadsters and first crushes, Times Like These is more about an America eager to recover normalcy. And a family that never quite did.
Whereas Boardinghouse Stew invites us to meet E. E.'s surrogate family, Times Like These gives us the real thing, a family barely eking out a living. This novel begins two years later, in 1945, and she is now thirteen, in a setting that makes life in the Sacramento boardinghouse look like a Disney vacation. Shafter, Nevada is a railroad town in the middle of nowhere. Hot, dry, dusty and boring. The nearest anything is forty miles away. Only twenty or so adults and children live there and most work for the railroad. There's a one-room schoolhouse with a teacher who lives in a converted boxcar. If it sounds grim, it was. Reading about her life—The Joads didn't have it much better—makes you marvel that Evelyn Smith grew up at all, no less to become an accomplished playwright and author. It's a testament to her artistry that the sunny optimism of a 13-year old girl comes shining through in the bleakest of environments. Times Like These almost makes you wish you lived in a railroad depot, extracting excitement and discovery from life's littlest pleasures. "An enchanting and delightful debut . . . ," declares Global News. "E. E. Smith skillfully delivers a nostalgic recollection of enlightened and inspiring relationships during one of our nation's darker times."
"During the summer of 1943, eleven-year-old narrator Eileen Smith does her part for the war effort: cleaning, cooking, and gardening at Mrs. Mumson's deteriorating guest house. In the tradition of Capote and O'Neill, Boardinghouse Stew is Eileen's nonfiction novel, originally released in the 1980s as a headline-grabbing stage play of the same name. Set in Sacramento, Boardinghouse Stew is a fast-paced comedic and dramatic frolic, examining the lives of seven divergent personalities and their highly individualized responses to the war and each other."
—ForeWord Magazine
". . . very highly recommended for both community library American fiction collections and personal reading lists is E. E. Smith's novel Times Like These."
—Midwest Book Review
Boardinghouse Stew
$24.95, Cloth, ISBN 978-09835615-1-4
Times Like These
$24.95, Cloth, ISBN 978-0-9824295-9-4
Both titles by E. E. Smith
Publisher: Phoenix International, Inc.
Fayetteville, Arkansas
Biographical Information
Evelyn Eileen Smith (aka "E. E. Smith") resides in the San Francisco Bay area and is an award-winning playwright of more than a dozen plays. Her debut novels, Boardinghouse Stew and Times Like These were inspired by her own real-life experiences during World War II.
For more information, please visit http://www.eesmithwriter.com.
Media Contact: Victor Gulotta, Gulotta Communications, Inc., 617-630-9286, http://www.booktours.com, victor(at)booktours(dot)com
###