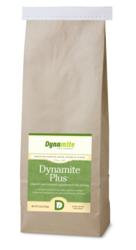 "DM Plus is our dream formula for a vitamin and nutritional supplement."
Meridian, Idaho (PRWEB) November 30, 2011
Cyber Monday brought the biggest sales in history for Dynamite Specialty Products, which makes all-natural food and nutritional supplements for horses, dogs, cats and virtually all members of the animal kingdom.
Preliminary figures show sales of more than $135,000, almost doubling previous record one-day sales of vitamins and nutritional supplements, said Callie Novak, Dynamite CEO. The previous record sales of almost $70,000 were on Cyber Monday in 2009.
The increase far exceeded the national 33 percent increase in online sales on the Monday after Thanksgiving last year, as calculated in IBM's fourth annual Cyber Monday Benchmark study.
The biggest seller was Dynamite, the all-natural vitamin and nutritional supplement for horses, from which the company takes its name.
Next were Dyna-Pro prebiotic for all animals and DM Plus and Tri-Mins, the reformulated all-natural vitamin and mineral formula for humans, which was released only Nov. 1.
"DM Plus is our dream formula for a vitamin and nutritional supplement," said Novak said. "Our aim was to produce a supplement that maximizes vitamin and mineral absorption, improves tolerance and has a positive effect that people can actually feel when they take it.
"When we submitted our formula to our manufacturer, they came back with suggestions to make the vitamin and mineral supplement less expensive. They're things most people would never notice. But we said no to all of them. Every ingredient in DM Plus has an exact purpose. This is the ultimate daily vitamin and mineral supplement on the market today," she added.
Dynamite offered free shipping on most items, promoting the special offer only through Facebook, Twitter and its own blog at http://dynamitespecialtyproducts.blogspot.com/.
About 80 percent of the orders were from Dynamite's network of 4,000 distributors in the United States and Canada, while the rest were retail customers ordering directly online.
"We have had Cyber Monday sales in the past and have never come close to these numbers," Novak said. "We credit it to the increased ability to connect with people via email and social media. Not only is Dynamite making more use of these mediums, but our customers also have become more receptive and tuned into social media as well."
A family-owned business that has specialized in nutrition for four generations, Dynamite Marketing makes products for virtually every member of the animal kingdom. It has long developed food and nutritional supplements for prize-winning racehorses and working dogs across the country. Its specialists can recommend exactly what vitamins, minerals and other supplements best support dogs with arthritis, horses with laminitis, cats whose owners make their own food, and cows with digestive issues. Dynamite has worked with veterinarians and university researchers to produce specialty foods to correct nutritional deficiencies in animals ranging from Canadian muskoxen to peregrine falcons to zoo exotics.
Dynamite uses only natural ingredients, made in the United States for better quality control, in its dog food, horse feed and products. Throughout its history, it has always looked at alternatives to animal by-products, antibiotics, chemical preservatives, fumigants, artificial coloring and other additives that have later caused health problems. Its manufacturing processes for natural horse feed and dog food are so stringently controlled that Dynamite has a separate mill to produce feed for herbivores, such as horses and poultry that are especially sensitive to contamination from meat needed by other species such as dogs and cats.
Headquarters are in Meridian, and manufacturing facilities are in Idaho and Iowa.
Additional information is available at dynamitespecialty.com or by calling (800) 697-7434.
###