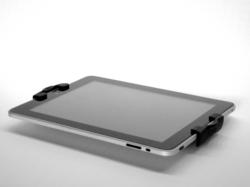 We have changed our name to align with the name or our great line of products.
Thousand Oaks, California (PRWEB) November 30, 2011
TIET (Timing Is EveryThing) has incorporated and changed its' name to MyClip Inc. This change was done to allow our customers to find us by our great products as well as by our name. "The MyClip line is our flagship line and our customers need to be able to search for us by the products they know," says Janice Peters, President of MyClip Inc. Products are available through both http://www.tietco.com and through our new website http://www.myclipforipad.com . Along with the name change comes a new website design to better show off the MyClip line of iPad™ accessories.
"Most of the accessories we see for the iPad are the same old thing in a larger size; skin it, shell it, cover it. Our products retain the beauty of the Apple design while increasing the flexibility of use that no other product offers." Jim Peters V.P. of Product Development said of the MyClip line. "These three products enhance the functionality of the iPad without detraction from the elegance of the Apple design."
MyClip Inc. manufactures accessories for the Apple® iPad. The accessories also work on the Samsung® Galaxy Tab and the Motorola® Xoom. The line includes the MyClip Thigh, the MyClip Palm and the 737MyClipboard.
###